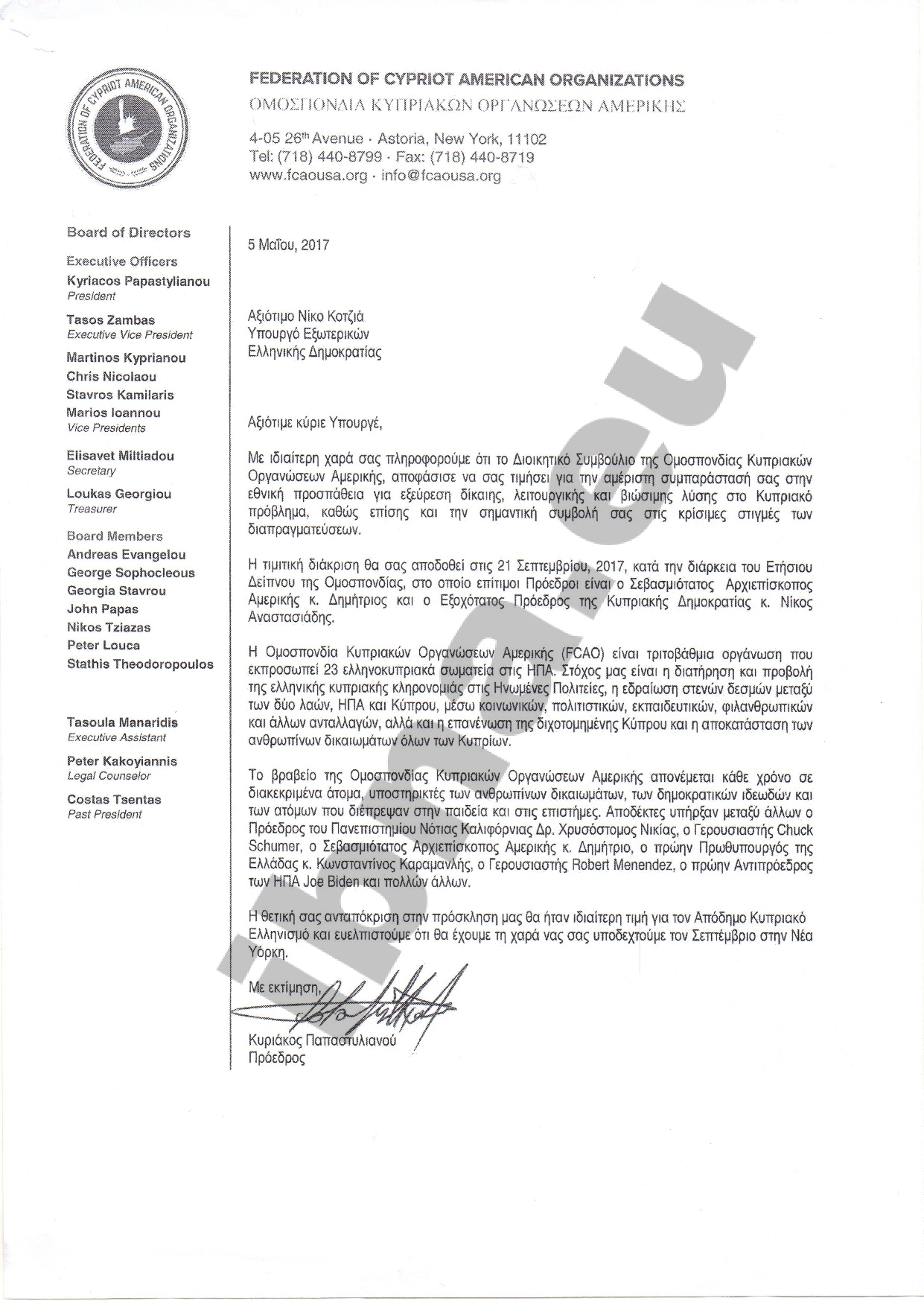 The Board of Directors of the Federation of Cypriot American Organizations decided to honor Greek Foreign Minister, Nikos Kotzias, for his full support in the national effort to find a just, effective and viable solution to the Cyprus issue, as well as his significant contribution in the crucial parts of the negotiations.
The honorary distinction for the Greek Foreign Minister confirms the universal acceptance and recognition of Nikos Kotzias' complete effort by Cypriot Hellenism in the solution of the Cyprus issue, thus isolating the small minority that continued to "take aim" at the head of Greek Diplomacy.
As stated in the letter of the Federation of Cypriot American Organizations, the award ceremony will take place on September 21, 2017, in New York, during the Dinner of the Federation which will be chaired by Honorary Presidents Archbishop of America Dimitrios and his Excellency, the President of the Republic of Cyprus, Nikos Anastasiades.
The Federation of Cypriot American Organizations (FCAO) is a tertiary organization that represents 20 Greek-Cypriot unions in the United States. The aim of the Federation is to preserve and promote the Greek Cypriot heritage in the United States, to establish close ties between the two peoples of the United States and Cyprus, through social, cultural, educational, charity and other exchanges, as well as reunifying the divided Cyprus and restoring the Human Rights of all Cypriots.
The Award of the Federation of Cypriot American Organizations is annually presented to distinguished people, supporters of Human Rights, democratic ideals and those who excel in education and science./ΙΒΝΑ