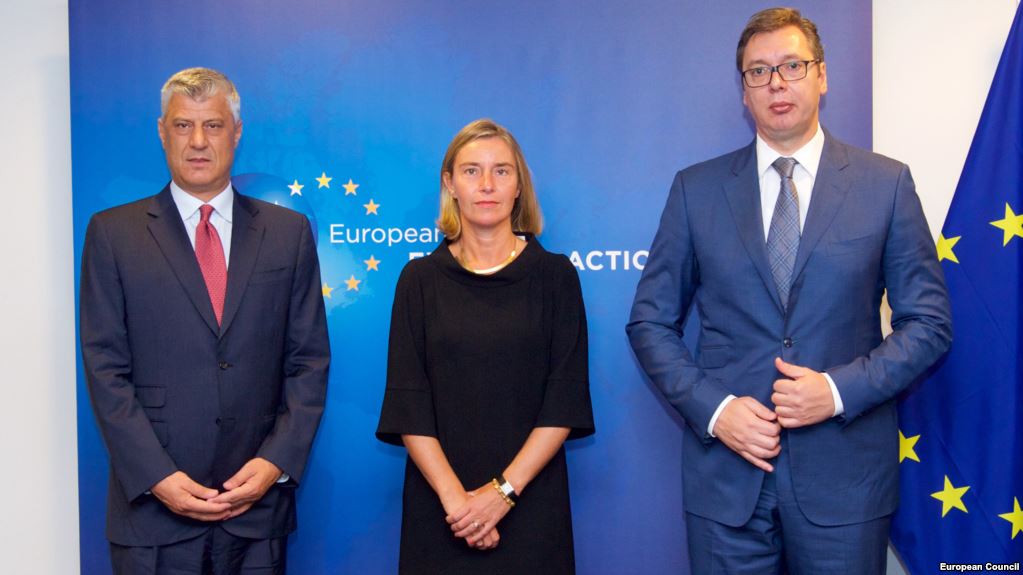 Serbia's Foreign Minister Ivica Dacic has rushed once again to get Serbia's Aleksandar Vucic out of trouble, and to state publicly, what was "a common secret". Thus, he revealed that Serbia's official proposal to resolve the issue of Kosovo is the demarcation between Albanians and Serbs.
He did not specify what this means, but left much room for consensus with the Albanian leadership in Kosovo, saying: "The border will be where we will agree".
Aleksandar Vucic has supported his political ally, while trying to maintain low tones, particularly as not to shock the nationalists who support him and who still believe that Serbia can defend its sovereign rights in Kosovo. "I do not know why you were impressed by the delimitation statement, since I myself have been saying it for two years", Vucic told reporters. He forgot however to specify that in all the times he had mentioned it before, he had stressed that it was his personal opinion and not the official position of the country.
This is the first time that the idea of ​​delimitation becomes a formal proposition, and what raises questions is why it was chosen to be announced now. It should also be considered a certainty that Dacic did not work autonomously, but after consultations with Vucic.
Is there something going on that forces the Serbian political leadership to expedite efforts to prepare the public for the possibility of recognizing a territorially "partitioned" Kosovo as an independent state? Judging from the reaction of Kosovo Prime Minister Ramush Haradinaj, something is taking place in the background. Commenting on Dacic's statements on demarcation, Haradinaj rejected this possibility, pointing out that the changing of the borders and the division on the basis of national criteria is not a prospect and poses risks. He then turned his arrows against the EU Foreign Affairs Commissioner, Federica Mogherini, accusing her of conducting a "secret dialogue" and urging her to reveal its content.
Another one who has been consistently speaking of secret negotiations, for some time now, is the former Serbian Foreign Minister, and now leader of the opposition coalition, Alliance for Serbia (VSJ), Vuk Jeremic. He claims that Kosovo President Hashim Thaci and Aleksandar Vucic have met in secret at least three times in New York, Paris and Rome, with former British Prime Minister Tony Blair, who is a consultant to Vucic, playing a key role in these meetings.
Yesterday, following Dacic's statement on the delimitation, Jeremic – who as a former president of the UN General Assembly allegedly has good sources of information in diplomatic circles – has returned, to ask Vucic to reveal what he has agreed with Thaci for Kosovo "under the table".
Haradinaj's and Jeremic's claims might never be recorded by history as events that paved the way for a solution to the Kosovo issue. What will definitely be recorded is the US insistence on a solution until the summer, the political isolation of Ramush Haradinaj on the international level, the nervousness of Vucic who behaves like a child who did the damage and does not know how to announce it, the "suspicious" silence of Berlin and London, which until recently categorically rejected every discussion of border change in the Balkans./IBNA