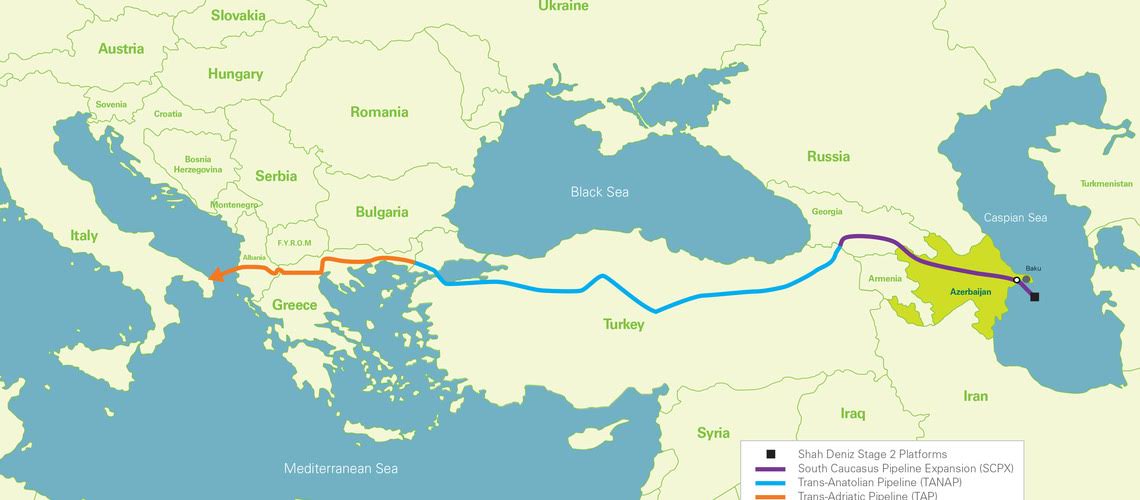 There is nothing that will change except from the supplier country, since instead of Russia, Europe will now depend on Azerbaijan… This is supported by a report published by the Bankwatch Network and signed by two executives of the European Investment Bank (EIB).
And this, at a time when the EU has made efforts at all levels not to depend on Russian gas by launching its new energy plan, and in fact step by step the so-called "Southern Corridor" is being completed for the transfer to Europe of Azeri gas by linking the Caspian resources to Italy. According to the network, in order to implement this planning, European state budget funds of 7 billion euros will be needed.
Is it worth it;
According to the report, Europe "may end up instead of increasing its energy security, investing in a costly and useless infrastructure that could act as a tool of political power in the hands of the authoritarian regime of Azerbaijan's President, Ilham Aliyev."
The "Southern Corridor", which consists of the capitalisation of the second phase of exploitation of the Shah Deniz deposit in the Caspian Sea, the South Caucasus Pipeline, from Azerbaijan to Georgia, the Trans-Anatolian Pipeline (TANAP) in Turkey and the Trans-Adriatic Pipeline (TAP) in Greece, Albania and Italy is a priority of the EU's external and energy policy and at the same time enjoys privileges such as financial support from EU public finances but also a favourable legal and tax regime.
Meanwhile, as indicated, the European Investment Bank (EIB) intends to release 1 billion euro funds for the TANAP pipeline, 2 billion euros for the TAP pipeline, while the European Bank for Reconstruction and Development (EBRD) is supporting the TAP pipeline with 1.5 billion euros and with 1.2 billion dollars the upgrading of the Shah Deniz deposit. The World Bank is considering to put 1 billion dollars in the TANAP pipeline construction.
The TAP pipeline, the consortium managing the project, has in the meantime secured a favourable tax treaty of 25 years in Greece as a state aid measure, which has been approved by the European Commission. The "Southern Corridor" is expected to transfer 10 billion cubic meters of natural gas to Europe per year. According to the report, this quantity can cover only 2-3% of the European market's needs.
At the same time, up to now, Azerbaijan has secured only the participation in the "South Corridor" and the access to its pipelines, TANAP and TAP.
If in the future another country wants to join, such as Turkmenistan, Iran or Iraq, new agreements between each country and the EU will have to be drawn from scratch.
As a result, the only winner is Azerbaijan…
According to the report, the demand for natural gas as recorded until now, in Europe does not seem as if it would increase in the years to come to a considerable extent that would justify the implementation of such grand projects; still, the "South Corridor" remains the "flagship" project of the EU… …. / IBNA