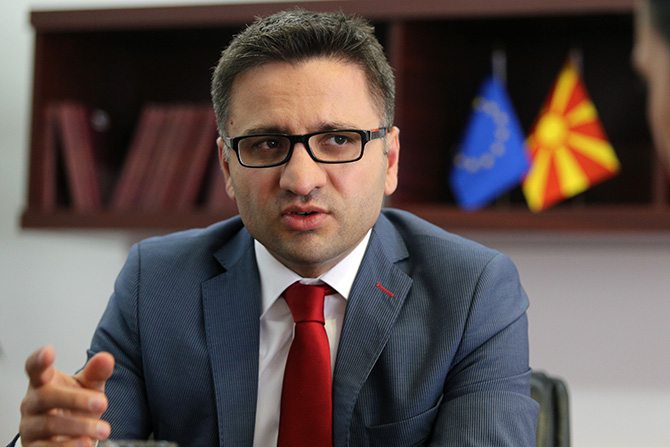 Fatmir Besimi
Professor at the South East European University and former Deputy Prime Minister for European Affairs
These days,  it seems that all of the attention is aimed at September 30, the day of the referendum. And rightfully so. That is our D-Day, when the historic decision on our future will be made. The day when everyone will have the opportunity to state their opinion, be part of the major decision and take part in the creating of our future. And will be able to say – YES, I was there!
If we follow the mood of the citizens, we can expect that, from those who will vote, the majority will support the referendum with the Euro-Atlantic stamp. This would be a confirmation of the fact that the majority of citizens for more than two decades of each survey show extremely high support for Macedonia's EU and NATO membership. Certainly this support should turn into votes on the day of the referendum, which, in fact, is a much greater civil commitment than voting in political elections. If in elections we decide for one or another political option for the next four years, in this referendum we have the possibility of historic determination – in which direction we will go! We will be in the family of developed countries in the EU and NATO, or remain outside and without alternative for a safer, stable and prosperous future. Voting FOR will mean an investment for a European Macedonia, a vote for a better quality of life. It's an investment of this generation!
An investment for a more efficient and professional administration that will serve citizens so they do not have to wait at front desks and hallways until they find someone they know so they could finish their obligation quicker. An administration that is fully aware that it is paid by citizens through their taxes.
An investment for a cleaner environment and a higher awareness of nurturing nature, better urban and rural areas with good infrastructure and green areas, parks and bicycle paths. An investment in the development of modern farming, healthy food and a healthy lifestyle awareness.
Investment in higher quality health services, doctors who are well paid, highly professional and up to the global trends. Clinics, hospitals and clinics are well equipped with professional and friendly medical staff to help those in need.
An investment in a quality and modern education, with teachers with a dignified life that will produce creative generations with integrity ready to face the challenges of life and be in a trend with the opportunities offered by technological development and globalization. Young people full of energy that will push Macedonia forward with their mark on the world map of sports, culture, science and business.
Investment in better social protection for the elderly, for the children, for people with disabilities and for the poor. Everyone has the same rights and deserves a better life!
An investment in an independent judiciary and the rule of law so that everyone can be equal before the law. Judges of integrity, who, through equitable decisions, will place corruption in a museum. An investment in human rights and individual freedoms, freedom of expression and independent media, protected from fake news and abuses of cyber technology.
An investment in democracy, in good governance, responsibly, transparently and efficiently with results in its policies and reforms to implement the programs with which they won the confidence of citizens in the elections. An investment into social cohesion and good interethnic relations, the values ​​we have in our tradition of multiculturalism.
An investment in higher economic growth, that is, annual growth of 5 to 7 percent, which will mean achieving the European GDP per capita in the next 35 years instead of 70 years. This is not just a projection, it's not just a theory, but already seen in the countries that became members of the EU and NATO in the post-transition period, so they grew faster than we did and are now closer to the European standard.
It is an investment in an ambitious strategy for economic growth, which will ensure fast, inclusive and sustainable growth. According to the World Bank Diagnostics, it would focus mainly on three objectives: strengthening the private sector, developing human capital and ensuring sustainability. Strengthening the dynamics and competitiveness of the private sector will be achieved by improving the trade connection, integration in the value chain, favorable business climate, improving the capacities of companies, supporting start-up businesses, improving access to finance and developing new forms of financing. The development of a more competitive and adaptable human capital will be achieved by providing quality education and training in acquiring the necessary skills throughout the life cycle, as well as providing quality preventive and primary care. Ensuring sustainability through effective governance, fiscal prudence and enhanced environmental management will be achieved through the rule of law, credible public sector institutions that are responsible to citizens, fiscal sustainability and an integrated approach to protecting the environment and tackling climate change.
In other words, integration into the European market, infrastructure connectivity with the region and macroeconomic stability on the one hand, by increasing investment, human capital and improving competitiveness, on the other hand, will contribute to faster economic growth. This, for a small economy, will mean conquering new markets, thereby increasing exports and gross domestic product that will contribute to a higher standard of living. In order to achieve this, Macedonia will have to import knowledge and create a generation of educated and professional personnel, young and creative, ambitious and with many contacts around the world, who will realize the dream that we are striving for today – Macedonia in the world map of developed countries through EU and NATO membership. With consistent economic policies and reforms, this growth would be supported by a national fund for strategic projects following the example of Juncker's Investment plan, or the so-called The Marshall Plan, which in our case, besides state funds, would attract private sector and international institutions financing for financing strategic infrastructure projects, innovations and development. While with EU membership, we will get an even bigger partner in achieving our ambitions for economic growth.
Through various EU development programs and funds, such as the Structural Funds, the Cohesion Fund, the Social Fund, rural development and environment programs, youth mobility funds, educational funds, the fund to support innovation and entrepreneurship and many drugs programs which in terms of size are disproportionately larger than the possibilities we have now available. The referendum does not end our way to the European nirvana, but it's yet to begin. This will not be a quick and simple process; on the contrary, there will be hard days with a lot of work, but one thing is certain – this is the only way that guarantees a brighter future.
The day after, this would be an investment to bring Europe to Macedonia!
Views expressed in this article are personal views of the author and do not represent the editorial policy of Nezavisen Vesnik