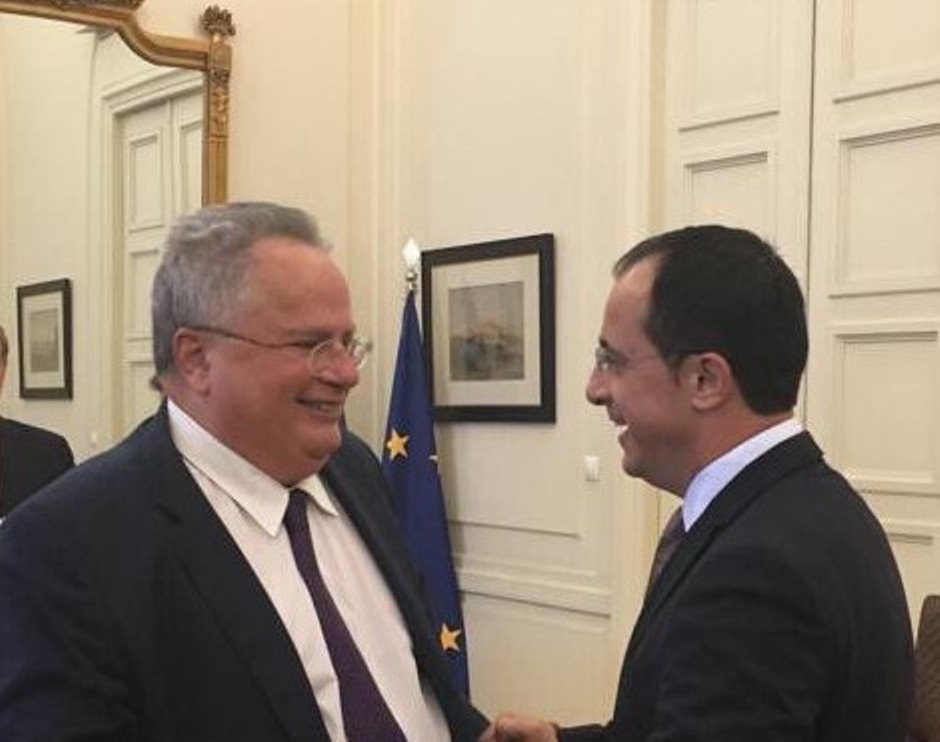 A meeting between Greek Foreign Minister, Nikos Kotzias, and his Cypriot counterpart, Nicos Christodoulides, took place in Athens on Wednesday, September 12.
The Cyprus issue dominated the agenda of the meeting, as Nikos Kotzias had a meeting on September 11 with UN Secretary-General Jane Holl Lute for the Cyprus issue, which was preceded by the meeting of the Greek Foreign Minister with his Turkish counterpart, Mevlut Cavusoglu, in Ismir, where the Cyprus issue was discussed extensively.
For his part, Mr Christodoulides briefed his Greek counterpart on the contacts and discussions he had in Germany during his two-day official visit there, two days prior.
In addition, the two foreign ministers discussed the visit of Cypriot President, Nicos Anastasiades, to Athens on September 17, where he is expected to meet both President Prokopis Pavlopoulos and Greek Prime Minister Alexis Tsipras.
Kotzias and Christodoulides also discussed ways to coordinate their moves during their visit to New York for the UN General Assembly, where important contacts will be made for the Cyprus issue, which will largely determine the course for the re-launch of a round of talks on resolving the pending issue.
Finally, according to IBNA's information, the two heads of diplomacy also discussed the tripartite meeting, at the level of Foreign Ministers, that will take place on September 13 among Greece, Cyprus and Israel in Jerusalem, which is particularly important for all three sides at a time critical to the future of the region.
Developments in resuming the dialogue on the Cyprus problem are at a critical juncture and the next moves need special attention and coordination between the Greek and Cypriot side. However, Nikos Kotzias and Nicos Christodoulides express cautious optimism, having in their hands the Guterres framework as it was formed in Crans Montana./IBNA