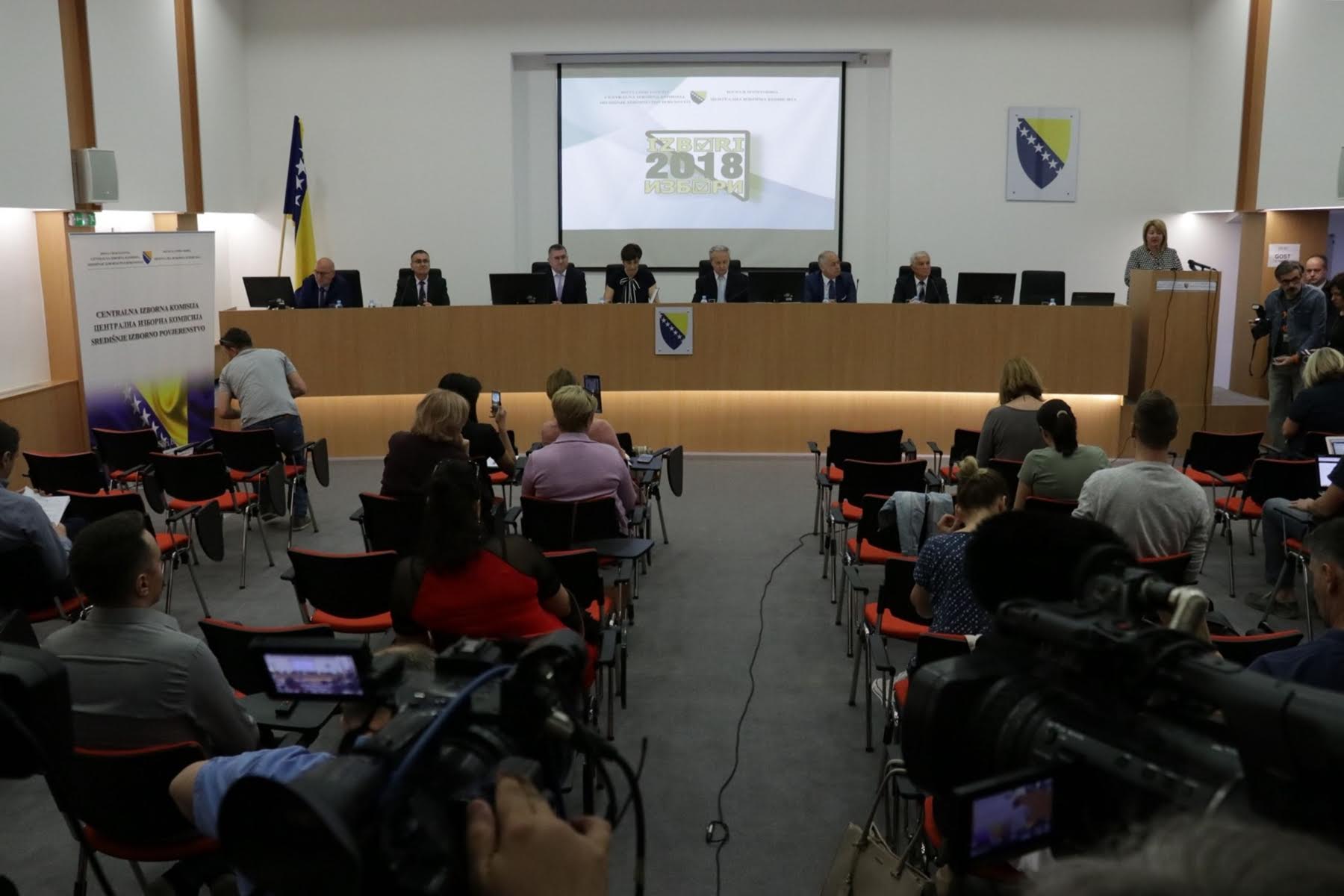 The Central Election Commission BiH (CEC BiH) announced on Tuesday that the General Elections will take place on Sunday, October 7, 2018. It is in accordance with the BiH Election Law which reads that general or local elections must be carried out on the first Sunday in October.
CEC President, Irena Hadžiabdić explained at the press conference in Sarajevo that the elections were called for the BiH Presidency, the House of Representatives of the Parliamentary Assembly of BiH, the House of Representatives of the Federation BiH Parliament, the National Assembly of Republika Srpska, the President and the Vice-Presidents of the RS and the cantonal assemblies. The voters list includes 3,381,963 names and the elections will cost 8,5 million BAM (4,25 million Euro). Most of the money, that is 4,7 million BAM (about € 2,35 million) is planned for the fee for the members of the polling boards, 1.2 million BAM (€600 000) for printing and packaging of ballots, and 560 000 BAM is intended for postal services of delivery of electoral material to voters outside of BiH.
"We identified 6 000 deceased persons on the voters list, and in about half of the cases we managed to do the updates. CEC ordered that, in addition to the names of the deceased voters, a mark should be put in place, which will prevent other persons to vote on their behalf", Hadžiabdić pointed out.
She also explained that from Wednesday, May 9, until May 25, political entities will submit applications to announce their participation in the elections, and from June 10 to 19, applications for the coalition and lists of independent candidates should be submitted. By August 23 the latest, the CEC BiH will have announced all certified candidates lists. In addition, the CEC BiH President noted that the election campaign will start on September 7 through to October 6 at 7.00 a.m.
Asked about the deadlines for amending the Election Law, Hadžiabdić said that BiH is entering the elections in unclear conditions. She added that, if parties fail to find a solution, BiH will be in big trouble; nevertheless, she explained that the Parliamentary Assembly of BiH can adopt law amendments by September.
According to the Serb member of the BiH Presidency, Mladen Ivanić, the issue of alterations in BiH's Election Law will be the main topic at the meeting of the BiH Presidency members with the German Chancellor, Angela Merkel in Berlin, on Wednesday.
"I hope that Germany, with its authority, will help the partners in the Federation of BiH to find a solution that everyone will endorse", Ivanić said.
Members of the BiH Presidency Mladen Ivanić, Dragan Čović and Chairman Bakir Izetbegović will travel to Berlin on Wednesday to meet with Chancellor Angela Merkel, at her invitation, as the Presidency announced…. / IBNA