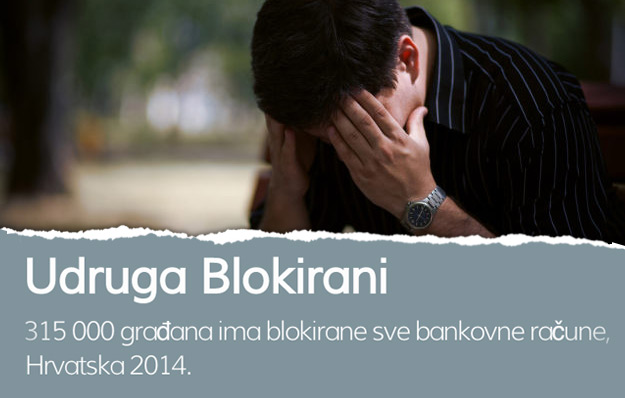 By Marija Avramovic – Zagreb
Civil association "The Blocked" announced on Thursday that a lawsuit for genocide against the Government was prepared and they were just waiting whether the Government would respond to their requests and initiatives, which seek the review of the constitutionality of the new Enforcement Act, which is why they have been sending letters of complaint to the Constitutional Court.
"If within a month the government doesn't take action to establish such a legal system, as well as the economic and political agenda in Croatia that will provide a decent life to blocked artisans and farmers, in social, economic and living standard, the conditions under which they will be able to satisfy their basic needs, without fear for their life and health, we will file a lawsuit for genocide against the Government", activists from "The Blocked" wrote on their website on September 9.
"We believe that the debt situation in which this nation lives can be identified as the genocide of modern times, genocide of the 21st century. People are desperate; that's life with blocked accounts, listed properties, foreclosures, evictions, loans in Swiss francs, these people dwell without any means of livelihood", secretary of "The Blocked" Daria Svob commented on the content of the complaint addressed to the European Court in Luxembourg.
The association on its website offers the devastating statistics that were the reason the initiative started at the first place.
They point out that in April this year, in Croatia, 315,000 citizens were blocked with a total debt of 24.5 billion kuna.
According to Association's unofficial data, 220,000 people with blocked accounts are unemployed, while the remaining 90,000 have some form of insurance, but not the conditions to repay the debts for which they had been denied the use of their account.
Accounts of 10 thousand people who have died are also blocked, as well as of 17 thousand people over 65 years or age which is why they're prevented to exit from debt bondage.
The association was established due to a lack of political options which could solve  the problems of citizens whose existence was threatened by foreclosure, and who in 99% of cases, fell into debt slavery because they lost their jobs or some other ways to settle the debts, according to "The Blocked".
And while the government, led by Prime Minister Zoran Milanovic, tries to fill the budget with monetisation of highways and other unpopular measures, debtors from the Association are just looking for a concrete answer from St. Mark's Square on how to stop the growth of the number of infinitely poor in Croatia.