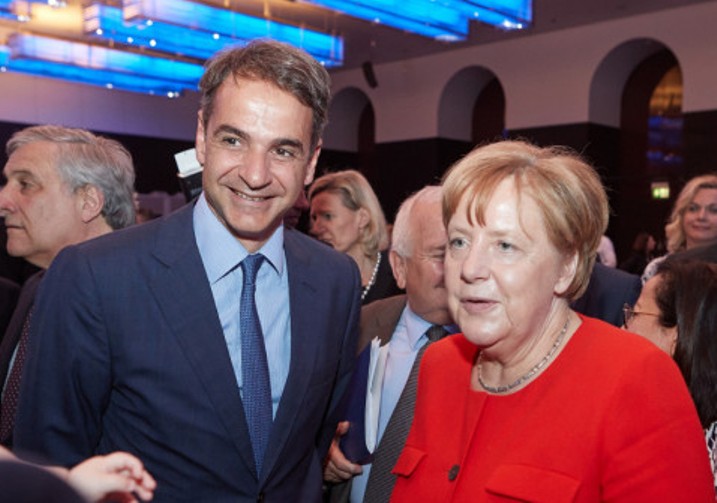 Starting from Europe's two leaders, Berlin and Paris, Prime Minister Kyriakos Mitsotakis aspires "in just 90 days to change the narrative about Greece in the major capitals of Europe and beyond".
The world tour that kicked off in order to achieve the metamorphosis of the country's image will continue on Tuesday in The Hague, then on September 24-27 in New York – even though the meeting with Trump as part of the UN summit has yet to be finalized – and afterwards in November, with a trip to Beijing, where Kyriakos Mitsotakis has declared he will meet with the Chinese president.
In Europe, however, Mr. Mitsotakis is trying to change his own image as well. Although neoliberal and reformist, his image has been overshadowed by the "nationalist", as they at least consider it, stance he kept regarding the Macedonia naming dispute. Perhaps this is why Mr. Mitsotakis, both with President Macron and with Chancellor Merkel, avoided to tackle the issue. Mr. Macron offered him the 'gift' of not mentioning it himself, but Miss Merkel brought up the matter at a joint meeting with the delegations, mentioned it in her statements and pushed the Greek prime minister to state that he would 'implement an agreement which he considers has flaws'. At their meeting, however, Mr. Mitsotakis expressed his concern about the trademarks of Greek companies bearing the Macedonian name.
Other than that, and in spite of the feelings of "satisfaction" the Greek side disclosed, Miss Merkel offered Mr. Mitsotakis exactly what was expected from the Prime Minister's first visit to the Chancellery: an homage carried out by a military unit, recitation of national anthems, an hour-long meeting, joint statements and smiles in front of the cameras.
In his meeting with Merkel, Mr. Mitsotakis dodged all the complex issues that could cause friction: the debt issue and the primary surpluses, the German remedies. To avert the opposition's criticism, Mr. Mitsotakis proceeded to a disclosure that is not habitual, speaking to reporters and saying that "We have a great advantage: we do not need to make a 180 degree turn. It is great to tell everyone that you will implement your program, the one the citizens have chosen you for".
Remarks made on perplexing issues occurred only in response to questions put by German journalists. Mr. Mitsotakis, on the other hand, well-prepared, commented extensively on the refugee-immigration issue, saying what the German government and the German society wanted to hear, as the far-right and xenophobic Afd's rates appear to be rising: strict Greek border guard and increased border patrols and distribution, larger numbers of immigrants returning to Turkey, and distribution in European countries of those who are ultimately entitled to seek asylum. "Securing human conditions in the hosting centers and discussing Dublin 4" was the icing on the cake.
Of course, the discussion revolved around the financial affairs and "the program of deep structural change of our choice" presented by Mr. Mitsotakis in as much detail as possible. Miss Merkel, on her behalf, did not speak much, expressed her concerns about President Trump's trade war and the effects of Brexit, agreed with Mr. Mitsotakis' plans by nodding, and expressed her wish for him to implement them, after all the criticism he has drawn. As for the German investment project on green energy (for which Mr. Mitsotakis invited Merkel to Greece to present it together, with the Chancellor appearing to have second thoughts), the focus is on further privatization and salvation of PPC. To begin with, It seems to be a variant of the old Helios project, which failed as a result of the German entrepreneurs' excessive demands. Therefore, it makes sense that there was cautious satisfaction in Berlin from Mr. Mitsotakis' first visit. /ibna