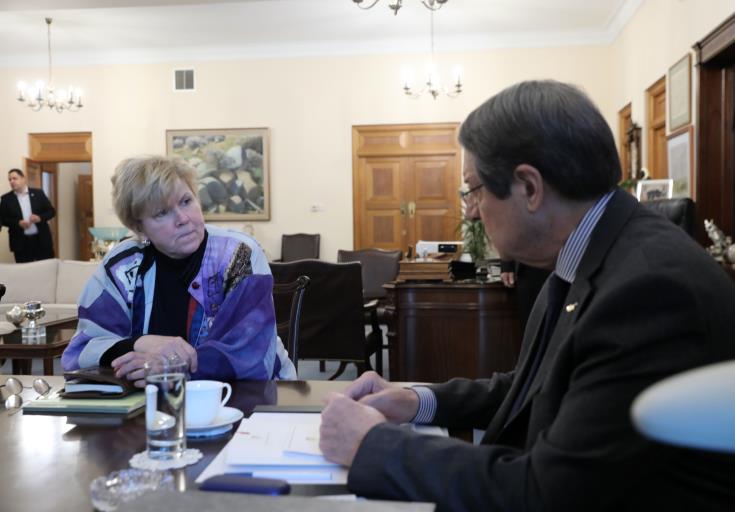 Her meeting with Mustafa Akinci will be held on the afternoon of the same day
By Michalis Michael
Next Sunday, on the morning of September 1, in the Presidential Palace, the President of Cyprus Nicos Anastasiades will meet with the UN Secretary-General's Special Representative, Jane Holl Lute, according to CNA.
As the same source reports, the Anastasiades-Lute meeting was finalized yesterday afternoon. Miss Lute is expected to arrive in the island on the night of Saturday 31 August and leave on Monday, September 2 at night.
The UN envoy's meeting with the Turkish-Cypriot leader Mustafa Akinci is expected to take place on Sunday afternoon, while it is plausible that Miss Lute will have further meetings with the two leaders on Monday as well, before leaving the island.
It is recalled that during their informal meeting on August 9, Anastasiades and Akinci decided, as it was announced, to firmly continue their involvement in Jane Holl Lute's efforts to reach the conditions of reference, that would allow for constructed and outcome-focused negotiations to take place, which would consequently provide a solution, with a sense of urgency.
They also expressed their readiness for a trilateral meeting with the UN Secretary-General following the UN General Assembly in New York, in order to plan their further steps.
The Government Spokesman, Prodromos Prodromou, has stated that "we hope that with her (Miss Lute's) presence here and the discussions that will take place, the necessary step will be taken, as the SG also expects, in order for the negotiations regarding the Cyprus issue to be relaunched"./ibna