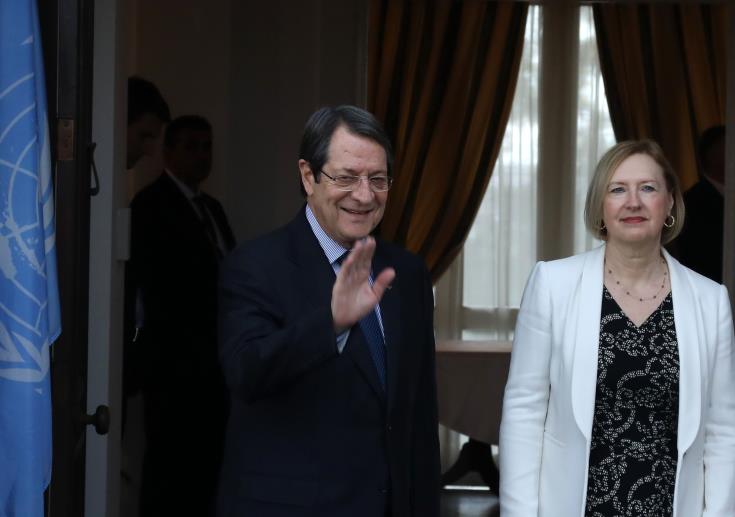 By Michalis Michael
The two leaders' meeting on Friday was moved at 9:30 am from 10:30 am, as declared by the United Nations. The announcement said that the Cypriot leader Nicos Anastasiades and the Turkish leader Mustafa Akinci jointly decided to hold a meeting at Nicosia Airport's House Špehar.
Meanwhile, President Nicos Anastasiades today is in constant talks with his closest associates, and will continue to do so tomorrow at the Presidential Residence in Troodos, ahead of Friday's meeting with Turkish leader Mustafa Akinci.
President Anastasiades, who, according to sources, will arrive to the meeting on August 9 directly from Troodos, is ready for the face to face meeting with the Turkish leader, during which he will raise two issues related to the Turkish activity in the maritime area around Cyprus and the country's activity regarding Famagusta. As a government source announced yesterday, the date for the next National Council to hold the members informed by President Anastasiades regarding the meeting remains open. A convenient date is being sought, probably after August 15.
The Government on its behalf is expected to commence procedures for Jane Holl Lute's arrival in Cyprus after Friday's meeting, with the same source estimating that this could occur either in late August or in early September. Miss Lute is also expected to meet with the guarantors, before informing Antonio Guterres. The next round of UN high-ranking official's contacts in Nicosia is likely to take place before President Anastasiades' visit to New York for the General Assembly and his meeting with UN Secretary General Antonio Guterres.
A possible trilateral meeting between Mr. Guterres and the two leaders in New York will only occur, provided that Miss Lute's actions will have previously showcased some effect, a government source reported to CNA./ibna