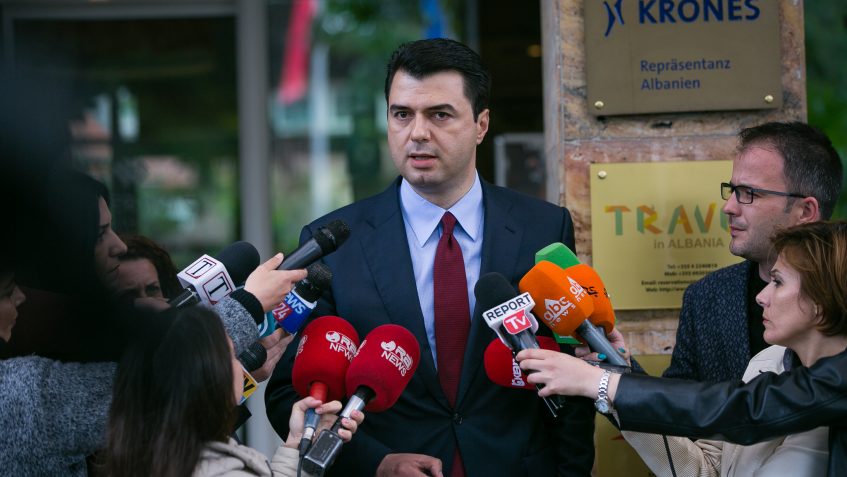 By Edison Kurani
In Albania, the opposition is determined not to stop the daily protest which it has started two months ago, until the government led by the left wing Prime Minister, Edi Rama is toppled and the country heads to elections with a technocrat government in office.
The democrat leader, Lulzim Basha assured his supporters that there's no withdrawal even after the criticism of the German Foreign Minister and added that he had clarified him after the joint press conference with Rama, where he expressed his reservations about the opposition's acts and parliamentary boycott.
"The only solution to this situation is a technocrat government with a political mandate to fight drugs and drug money, to implement the law on decriminalization and to create the necessary conditions for free and fair elections".
Basha said that "the Democratic Party and the opposition remain open for dialogue, but dialogue which serves the solution of this political crisis and not a monologue that makes the situation in the country even more serious".
The democrat leader also commented the appeal of the German Foreign Minister for the return of the opposition in Parliament and his declaration against a technocrat government. Initially, he mentioned the traffic of drugs, which according to him has spread enormously and added: "Our battle is not being made for our fate as a political party, but for the fate of Albania, for the fate of European Albania. It is being made for the European values and in the name of regional security and European security".
Speaking once again on the opposition's cause, Basha assured that there will not be elections on June 18 if Rama continues to be a Prime Minister.
"This is a decision that Albanians have taken. There will not be fair and free elections without a technocrat government, otherwise they would lead the country to total chaos".
The President of the Republic, Bujar Nishani has decreed the parliamentary elections to take place on 18 June. The main left wing coalition parties, the Socialist Party and the Socialist Movement for Integration have opened their electoral offices and have de facto started a campaign, although it officially starts 30 days before election date.
Meanwhile, the opposition continues its protests, convinced that there will not be elections on 18 June. Prime Minister Rama is ready to enter the elections even without the opposition. Meanwhile, the joint chairman of the left wing coalition, Ilir Meta has declared several times that he will not participate in the elections without the opposition's participation.  /balkaneu.com/