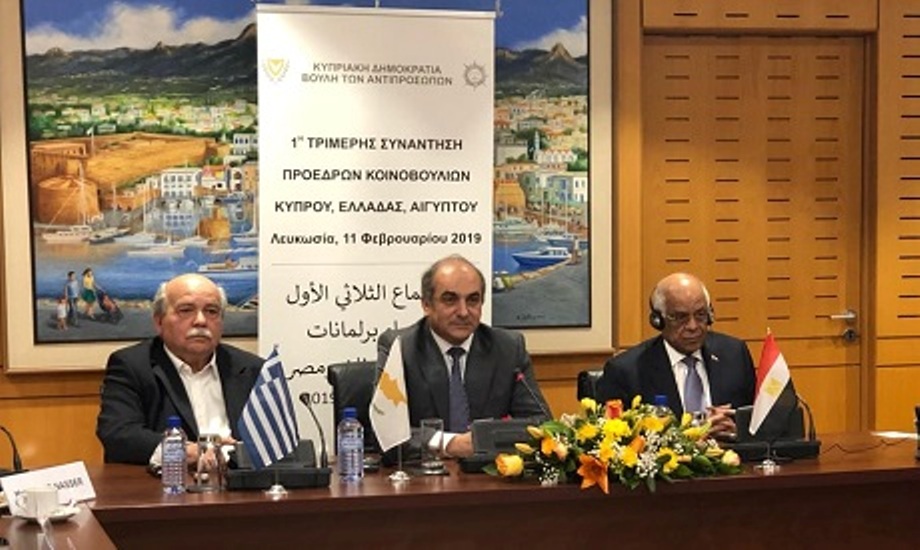 The 1st Tripartite Parliamentary Cooperation took place in Cyprus, on Monday 11 February 2019, in the presence of the Presidents of the Parliaments of Greece Nikos Voutsis, Cyprus Dimitris Syllouris and Egypt Ali Abdel Aal.
The aim of the parliamentary cooperation is to contribute to the tripartite cooperation between Greece and Cyprus, which started at the highest level in 2014 and has held 6 meetings to date.
The three Presidents referred to Peace, the stability and development of the Eastern Mediterranean through this cooperation. The President of the House of Representatives, Dimitris Syllouris, noted that this first tripartite meeting "carries out primarily an essential political message: our willingness to work together for the benefit of our countries and peoples and for the benefit of peace, stability and prosperity in our turbulent region". He referred to the initiatives of the Parliament for the establishment of a Middle East Cooperation Center and the introduction of the Arabic language into the educational system of Cyprus.
For his part, the President of the Hellenic Parliament, Nikolaos Voutsis, said that the cooperation between Athens, Cairo and Nicosia "is one of the most advanced on the basis of, among other things, the pace of progress and the range of qualitative and quantitative activities that are being undertaken through joint programs and initiatives. In this way, the involvement of parliaments enriches the dialogue and actions", he said. It highlights, he added, "the channel of interparliamentary cooperation and brings our peoples closer, making them shareholders and the driving force of the further strengthening of the tripartite scheme as a whole".
Egyptian House of Representatives Ali Abdel Aal said the meeting is sending a message "to all countries trying to prevent the countries of the Eastern Mediterranean from harnessing the natural wealth in the Mediterranean, be that natural gas or other forms of natural wealth, which is enormous". He also expressed the conviction that this could serve as an example in the area of ​​ successful parliamentary dialogue. /IBNA