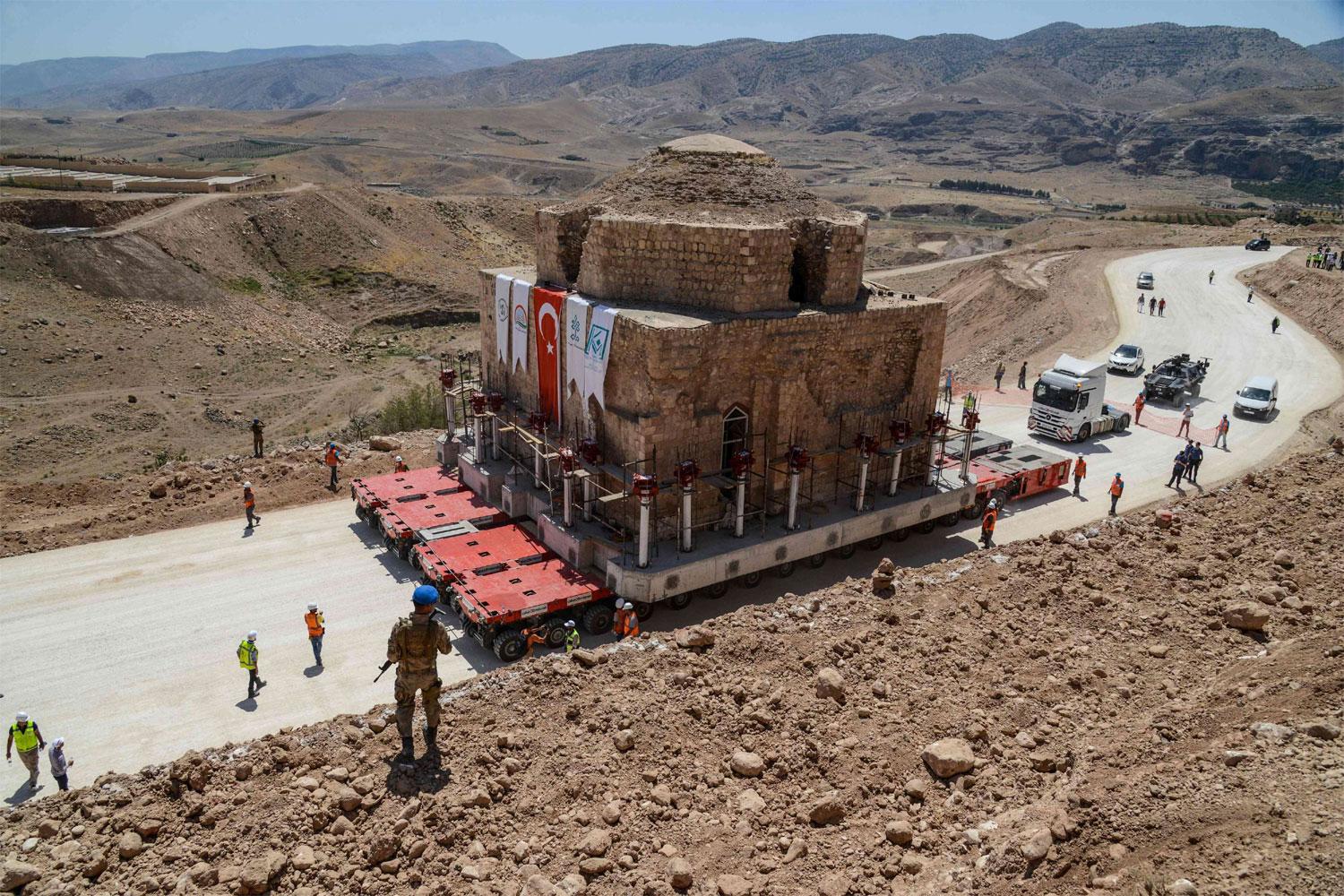 The operation lasted for several hours but it was worth it. The historic Artuklu Hamam will now be situated elsewhere as amid growing fears of it going underwater after the construction of the Ilisu Dam are over led authorities to act swiftly and save it.
From now on it will be found and admired in the new settlement of Hasankeyf in the southeastern province of Batman, Turkey.
The transportation of the bath house which most specialists estimate is 650-years-old, was a rather strenuous work since it weighs 1 600 tonnes but had to be done because the area is expected to be flooded due to the dam.
Hurriyetdailynews.com reported that it was first placed on a special 150-wheel platform and then driven 2km away from its initial place, in 2 hours and 50 minutes.
The famous Turkish bath is part of an Islamic mausoleum and its transfer is being supervised by the country's Agriculture and Forest Ministry and the competent minister, Bekir Pakdemirli.
AFP reports that "The moving of the Artuklu Hamam, which reports said is at least 650 years old, is the latest such transfer of a major historical building in the area to avoid being buried underwater.
The major operation for the move of the bath house
In May 2017, Turkey moved the 15th century, 1,100 tonne tomb of Zeynel Bey, a Turkic tribal leader, also on a special platform to avoid being buried by the floodwaters."
The Ilisu Dam
The Ilısu Dam
is a concrete-face rock-fill dam on the Tigris river, close to the village of Ilısu and along the border of Mardin and Şırnak Provinces in SE Turkey. It is one of the 22 dams of the Southeastern Anatolia Project that will produce sufficient hydroelectric power in the region. It will also be a flood-control "tool" and will be used for water storage, too.
The dam
will be 138 meters high and 1,820 meters wide and it will provide a 1,200 MW power station with an annual generation of 3,800 GWh, which would represent about 2 percent of national electricity needs.
This will be the second largest dam in Turkey in terms of dam volume (45 million m3) and 4th in terms of installed capacity.
Its construction began in 2006 and was originally expected to be completed by 2016 but several disruptions have led to the postponement of its building.
The dam has drawn international controversy, since it will flood portions of ancient Hasankeyf (and this is why the Artuklu Hamam had to be moved to another location). Because of the imminent flooding, citizens of the region had to be relocated.
The above mentioned serious issues that unavoidably cropped up due to the creation of the dam, the latter lost international funding in 2008.
People protest inside the water against the construction of the Ilisu Dam
Finally, Kurdistan Workers' Party (PKK) militants have also attacked the dam infrastructure that translated, practically wise, to construction delays…. /
IBNA
Main Photo: The transfer of the Artuklu Hamam on the special 150-wheel platform