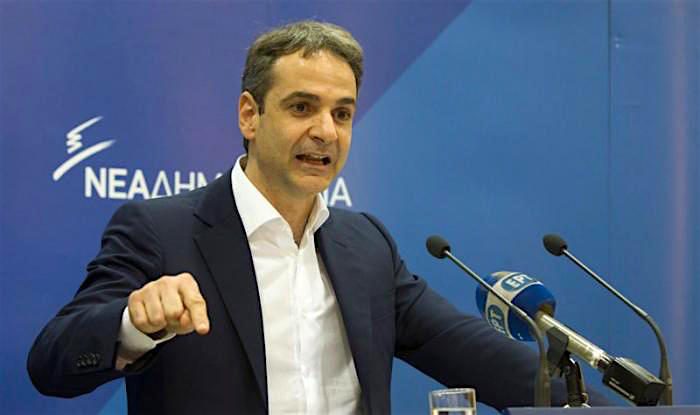 By Martha Lekkakou / New Democracy's (ND) readiness to rule will be the main focus of the Party's 11th Convention on 16-17 December 2017.
Unless something (unexpected) crops up, both former Prime Ministers Antonis Samaras and Kostas Karamanlis are said to attend the Convention. ND leader Kyriakos Mitsotakis, who has been at the party's helm for one and a half years, will address the party, putting forward a message of unity, transcending the party and reaching all Greeks regardless of political orientation.
Kyriakos Mitsotakis will present during the 11th Convention the ND governance program, which has already been partially made public. He will emphasize his own reform plan, necessary for Greece's final exit from the Memoranda, insisting that his plan is not imposed by the crediting institutions, but by common sense and the need for economic, social and national revitalisation.
As the party secretary, Mr. Lefteris Avgenakis points out, "ND is now entering the final phase ahead of the 11th Convention, which will ratify the main axes of our party's programme, the framework which will assist us in our future government work, the programme that Kyriakos Mitsotakis and ND will be shortly called upon to implement".
Estimating when the next elections will take place, Mr. Avgenakis simply says "soon". His view is shared by many in ND who consider that 2018 is an election year, as they anticipate that the implementation of the upcoming "hybrid" memorandum, which contains a series of very unpopular measures for 2019 and 2020, will push Alexis Tsipras to early elections, so as not to suffer further political damage.
With regard to the ND's agenda, the main policy items will revolve around tackling unemployment by attracting investments, creating at least 120.000 new jobs, reducing tax rates on businesses and the ENFIA tax, providing tax incentives for families with children, diminishing government spending, strengthening the minimum guaranteed income, ensuring compulsory pre-school education for 4-year-olds, abolishing the laws of Baltas, Filis and Gavroglou in Education, as well as the laws passed by minister Paraskevopoulos in the field of Justice, but also consolidating the sense of public safety and security for ordinary citizens by strengthening police "foot patrols" on a 24-hour basis, as well as the restoration of the DIAS and DELTA immediate response police team.
The Nobel Prize-awarded economist Christophoros Pissaridis, the philosopher Stelios Ramphos and the Finance Minister of Cyprus, Haris Georgiades have been invited to attend the party Convention.
The government policy framework that Kyriakos Mitsotakis will present to the Party Convention will be subject to the approval of 3.500 party delegates…/IBNA