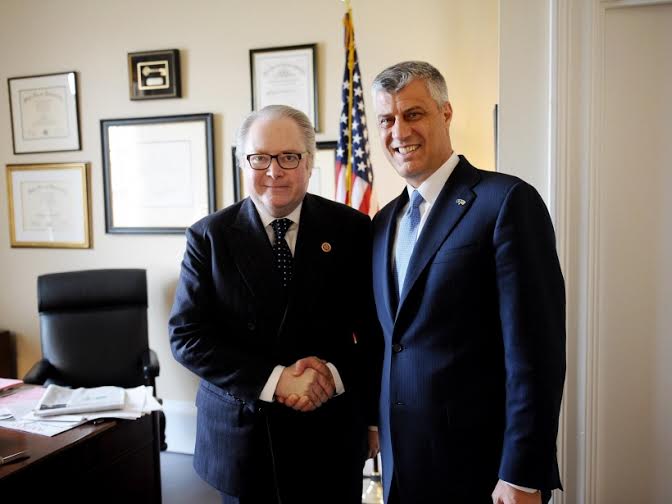 Pristina, February 3, 2015/Independent Balkan News Agency
By Elton Tota
Deputy PM and Foreign Minister of Kosovo, Hashim Thaci, who is in a visit to the US, has received full support for the important processes that the Republic of Kosovo is going through.
In Washington, Thaci has met with Assistant Secretary of State for European and Eurasian Affairs, Victoria Nuland to talk about the recent developments in Kosovo.
Assistant secretary Nuland has hailed the creation of the new government of Kosovo, expressing her readiness for the continuation of cooperation between the two states.
On the other hand, deputy PM Thaci has thanked the US government for the constant support given to Kosovo, which has been crucial for the liberation and then the proclamation of the independence of this country.
"I received the support of the USA for the implementation of our priorities regarding economic development, for the transformation of our Security Forces into Armed Forces of Kosovo and for our fight against terrorism. Of course, we also talked about the continuation of talks with Serbia, as an important process in the integration of the Serb community", said Thaci after the meeting.
Assistant secretary Nuland has also stopped on issues regarding security. Deputy PM Thaci said that "Kosovo is and remains an example in the region for the fight against extremism and terrorism".
The meeting stressed once again that Kosovo will always be grateful for the engagement and support that USA has offered for Kosovo.
Earlier during the day, the delegation from Kosovo has also had meetings in the Pentagon, in the Congress and Senate.
In the Pentagon, Kosovo's head of diplomacy has met with Assistant Defence Secretary, Evelyn Farkas.
The meeting stressed that this will be a decisive year for the completion of the transformation of Security Forces into the Armed Forces of Kosovo.
On this occasion, Deputy PM Thaci said that the entire process of security revision and the creation of Kosovo's Armed Forces has been done with the consent of NATO and USA.
On the other hand, Assistant Secretary Evelyn Farkas, said that the Republic of Kosovo will have the full support of USA in the domain of security.
After the meetings in Pentagon, deputy PM Thaci has had special meetings with senator Chris Murphy and congressman George Holding.
During his stay in Washington, PM Thaci will participate in the Morning Prayer with President Obama.
After Washington, delegation from Kosovo will travel to New York, where it will participate in the next session of the UN Security Council. /ibna/