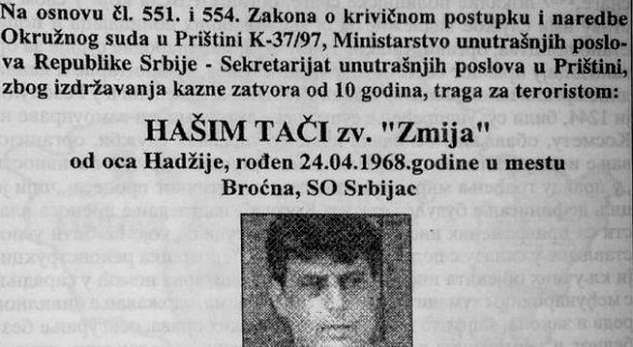 IBNA Special Report
Pristina, April 16, 2015/Independent Balkan News Agency
By Elton Tota
Deputy Prime Minister and Foreign Minister of Kosovo, Hashim Thaci has received an invitation from the "Youth Council for Education" NGO to visit Belgrade on April 24 in order to participate in a conference which relates to integration of Western Balkan.
Minister's Thaci political advisor, Ardian Arifaj said that in principle, the head of the diplomacy of Kosovo has positively replied to this invitation.
Arifaj said that Thaci is one of the main leaders in the region who promotes peace and cooperation between nations and states.
"In this spirit, deputy PM Thaci is ready to travel to Belgrade in order to promote this spirit of cooperation", Arifaj said.
Analysts say that this visit could help dialogue and relief tension in the relations between Kosovo and Serbia.
The prominent Serb analyst and journalist, Bosko Jaksic says that Thaci would be welcomed in Belgrade.
"During a meeting for coffee that they had together a while ago in Pristina, Thaci and Dacic said that they should meet more often, even without flags, in order not to waste a chance of receiving the Nobel prize".
While the public opinion in Kosovo and Serbia believes that it's early for such visit, Jaksic believes that such visit "would be delayed".
Meanwhile, Kosovo analyst, Vilhard Shala told IBNA that the visit of the head of Kosov's diplomacy to Belgrade could help dialogue and relief tension between Kosovo and Serbia.
"The two countries must boost their cooperation in all domains. This was also the request of the European Commission, so both countries respect the principle of good neighboring relations. However, the visit of the head of the Kosovo diplomacy will be welcomed by radical forces in Belgrade, the actions of whom may be uncontrollable. We hope that the Serb authorities will be engaged in order to offer maximum security for the Foreign Minister of Kosovo", he says.
Serb Prosecution warns Thaci's arrest
Based on the laws in power, Serbia's Interior Ministry has the right to arrest Hashim Thaci as a terrorist and hold him ten years in prison as soon as he enters Serbia's territory.
In 1997, Thaci was found guilty by the District Court of Pristina and was sentenced to 10 years in prison.
Unable to arrest him at that time, Serbia's Ministry of Interior had declared him wanted and had demanded from citizens to inform the authorities if they had any information on Hashim Thaci.
Lawyers in Kosovo confirm this.
The Serb prosecutor for war crimes, Vladimir Vukcevic says that the arrest warrant for Hashim Thaci is still valid, thus he can be arrested if he goes to Belgrade.
"Investigations over Hashim Thaci have been suspended, as authorities are unable to catch him. It's true that Interpol has stopped issuing arrest warrants for Thaci, arguing that he's a very senior Albanian official, but in Serbia, the warrant is still in power. Thus, if he comes here, we can arrest him", says Vukcevic. /ibna/