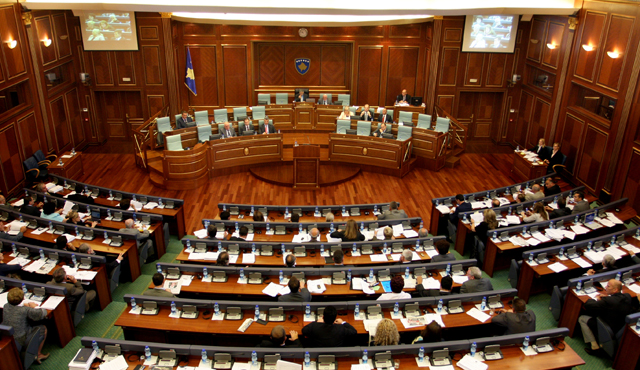 Pristina, March 5, 2014/Independent Balkan News Agency
Heads of the two biggest parties in Kosovo, leader of the Democratic Party of Kosovo (PDK), Hashim Thaci and leader of the Democratic League of Kosovo (LDK), Isa Mustafa have agreed to take the country to early parliamentary elections by dissolving parliament.
The scenario of the two leaders has been prepared without consulting other leaders of opposition parties in the country.
The vice chairman of PDK, Hajredin Kuci says that there has been an accord on this scenario. He says that the dissolution of parliament will preserve political consensus.
"We have agreed with LDK and several other parties to dissolve parliament with 2/3 of the votes and this would preserve political consensus and no party would be a winner or a loser or part of the game of someone else. Next week we will even draft the agenda", declared Hajredin Kuci.
Arben Gashi from LDK has admitted such an agreement. He says that the dissolution of parliament will take place within a few weeks.
"It's true that there's an agreement on this. Dissolution is expected to take place at the start of April", declared Gashi.
On the other hand, the head of the parliamentary group of AAK, Ardian Gjini says that the overthrow of the government would be the most ideal thing to do, but he adds that his party will back any form of overthrow of this government.
Gjini believes that these sort of agreements are being made because PDK is scared of its overthrow from the government.
"We will back the overthrow of the government in any way or form, but we believe that this government deserves to be discharged and not to leave through the dissolution of parliament. We are not interested on such agreements, because PDK is trying to prevent its overthrow from the government", said Gjini.
2/3 of votes in parliament are needed for the overthrow of the government and the president decrees the dissolution. If this scenario takes place, "Thaci 2" government will manage to stay in power until the holding of the fresh elections and the creation of a new government. /ibna/