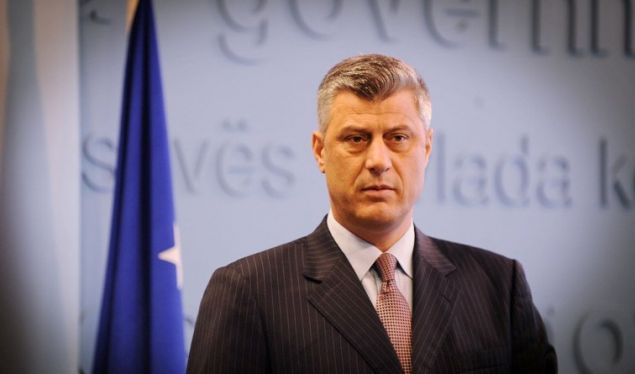 IBNA Special Report
Pristina, March 3, 2015/ Independent Balkan News Agency
By Elton Tota
With the governing coalition accord between PDK and LDK, Hashim Thaci has taken good care of his political career.
Initially, he will serve as deputy PM and Foreign Minister, while his aim is to become President of Kosovo on 2016, when Atifete Jahjaga's term in office comes to an end. Thus, Thaci is trying to remain at the center of Kosovo politics until 2021. But will he make it?
Kosovo's PM, Isa Mustafa, says that the party that he chairs will respect the agreement for the governing coalition, making it clear that Hashim THaci will become president in 2016.
"That issue cannot be regulated through a government plan, but it's regulated through our coalition accord and we will respect this accord", Mustafa says.
But, this process will not be an easy one, due to the fact that MPs within Democratic League of Kosovo share different opinions with the PM as far as the post of president is concerned.
Along with opposition MPs, they're planning to fail the election of the president in order for the country to head to early parliamentary elections.
LDK lawmaker, Vjosa Osmani says that her vote will not go for Hashim Thaci as president.
"It's only natural that my objection toward this coalition means that my vote will not go in favor of Hashim Thaci as president. I don't think that Hashim Thaci would do a favor to Kosovo by being a president, therefore I don't see any reason to vote him. I hope that there will be a large number of MPs that will refuse such proposal, by not meeting the quorum on the day that this proposal comes to the parliament of Kosovo", Osmani said.
Another LDK lawmaker, Adem Salihaj will not obey his boss into voting Hashim Thaci as president.
He has expressed his stance against the former PM to be elected president, based on the governing coalition accord between PDK and LDK.
"I don't think that it would be good that a prime minister who has served while Kosovo was enveloped by crime, is elected president of Kosovo for a five year term. I think that this would damage Kosovo. Kosovo has been negatively assessed in the fight against crime, corruption, theft and Hashim Thaci has been a prime minister and has his part of responsibility for this", Salihaj sayts.
Besides LDK lawmakers, opposition MPs are also expected to be against the nomination of Hashim Thaci as head of state.
Self Determination MP, Rexhep Selimi says that Isa Mustafa a prime minister is Thaci's project and the latter will benefit from the votes of LDK to become president in 2016.
"All of this is Thaci's project which means that Mustafa will also be within Thaci's project. We will come to a situation when the term of the president in office will run out and we will work against these calculations which damage the citizens, which are more of an underworld projects rather than political projects", Selimi says.
Meanwhile, PDK lawmakers expect their leader to become president.
PDK lawmaker, Blerta Deliu is expecting consensus within the coalition for the election of Hashim Thaci in the post of president.
"I expect this agreement between the two leaders, Thaci and Mustafa to be respected, because  it would be fair for the citizens of Kosovo if the two parties find political consensus. I also think that MPs should reflect and vote this in parliament. I believe that PDK will be in favor of the appointment of the appointment of Foreign Minister Thaci as president of Kosovo", Deliu says.
The term in office for president Jahjaga expires in March 2016 and according to the agreement between PDK and LDK, former PM Hashim Thaci will be nominated by the party that he leads in order to take over the post of the president of Kosovo. /ibna/