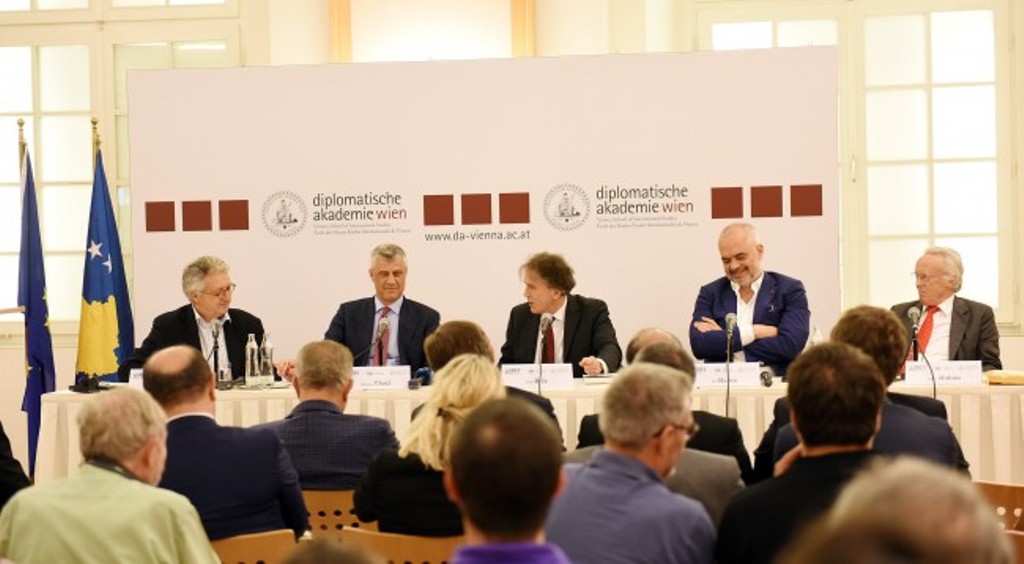 President of Kosovo, Hashim Thaci has participated on Wednesday in the promotion of the biographic book "New State, Modern Statesman" at the Vienna Diplomatic Academy.
During this activity, speeches were also delivered by the head of the Vienna Diplomatic Activity, Emil Brix, ambassador Albert Rohan, ambassador Wolfgang Petrisch and the Albanian PM, Edi Rama.
In his address, Kosovo's president Hashim Thaci has also talked about the latest political developments in Kosovo and the region, about the European perspective and the last phase of dialogue for the normalization of relations between Kosovo and Serbia.
Regarding the last phase of dialogue with Serbia, president Thaci said that the two countries have a chance to reach compromise and help their citizens to make a historical reconciliation.
"Or we can embrace the status quo and strengthen extremist forces, nationalism and foreign threats which would destroy all the progress that we have made so far. I believe that the majority of political parties in Kosovo agree that time has come for us to attempt a permanent solution", Thaci said.
The head of the state has also mentioned three vital elements in order for dialogue to be successful.
"We need more engagement by Brussels in order to reach a legal framework agreement between the two sides. Brussels should invest in order for the sides to reach a solution. It should invest in sources, people and time with the aim of closing this chapter", president Thaci said.
The president also said that Washington also needs to be engaged in this process.
"I have met with Wes Mitchell, the new vice secretary and I have also met vice president Mike Pence. The United States are taking a special interest in the Balkans. In the recent weeks, I have also had meetings with president Macron and chancellor Merkel and I can say that Paris and Berlin are willing to help us reach this agreement", he said.
Meanwhile, according to the president, the third vital element of this process is for the solution to be in favour of both sides. /ibna/