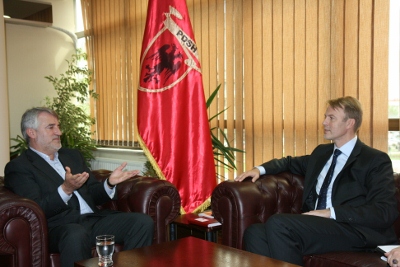 Tetovo, October 17, 2013
EU ambassador to Skopje, Aivo Orav delivered today the progress report to the leader of PDSH, Menduh Thaci.
Besides the discussions on the report, Thaci and Orav also discussed on the political situation in the country, the deadlocks in the Euro integration process and the failure to meet the standards that EU requires. Issues that relate to Albanians were also stressed, and the head of PDSH has expressed his concern about the deadlocks that relate to the advancement of issues that relate to Albanians and their aggravated social and economic situation.
Leader of PDSH, Menduh Thaci has also commented rumors about early elections.
He stressed that early elections would be unnecessary in circumstances when the current government has the necessary capacities to resolve issues such as the name dispute with Greece. /ibna/