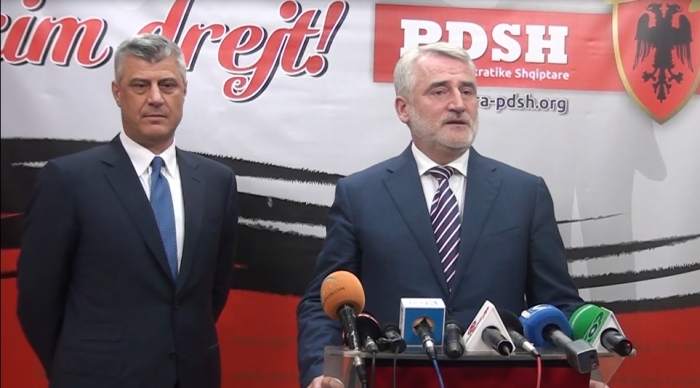 Skopje, January 23, 2015/Independent Balkan News Agency
By Naser Pajaziti
Foreign Minister of Kosovo, Hashim Thaci has demanded the unification of the Albanian political factor in FYROM in order to advance  Albanian issues in this country.
He sent this message last night in Tetovo where he held meetings with the leaders of the two largest Albanian parties, Ali Ahmeti from BDI (Democratic Union for Integration) and leader of the opposition party PDSH (Albanian Democratic Party), Menduh Thaci.
"Kosovo and its institutions have closely followed the situation of Albanians in Macedonia and the affirmation of their rights. The key to full affirmation of the rights of Albanians in Macedonia consists of a dialogue and an accord between the two forces which could be the most powerful political forces in Macedonia, because only the affirmation and the full integration of Albanians can make Macedonia European. I can say that whoever has anti-Albanian stances in Macedonia, is against Europe, NATO and against the Euro Atlantic values", declared Foreign Minister of Kosovo, Hashim Thaci.
This idea was also supported by the two Albanian political leaders, Ahmeti and Thaci.
"We spoke openly about many issues. I welcomed the suggestions of the Foreign Minister in order for cooperation between the two main political forces to grow. I informed him on the hopeless situation in Macedonia, the blocking of the integrating process, on the economic discrimination made by the government and I vowed that I will continue to act politically and never be part of unclear adventures of political groups", said Menduh Thaci.
Meanwhile, the meeting with the leader of BDI, Ali Ahmeti was held in the hospital of Tetovo, where he's being treated after the accident suffered two days ago. Foreign Minister of Kosovo, Hashim Thaci said that Ahmeti has welcomed a unification of Albanian political forces in order to attain political goals.
The senior government official from Kosovo has also asked to the Albanian parties to move their parties' seats from Tetovo to Skopje. /ibna/