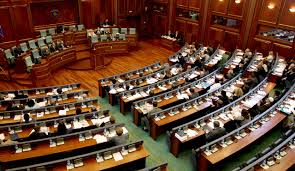 Pristina, May 31, 2013
Parliament of Kosovo has received today the proposal of Prime Minister Hashim Thaci for changes to be made in the Constitution of Kosovo, in order to defend the rights of the Albanians in the Presevo Valley and other republics of former Yugoslavia where there are Albanians.
The Prime Minister proposed for this issue to be regulated in the Constitution of Kosovo through an amendment that will entitle Kosovo to defend Albanians in this region from discrimination and pressures from the government in Belgrade.
Meanwhile, the MP of the Democratic League of Kosovo, Lutfi Haziri has proposed a resolution which will defend the rights of the Albanians in the Valley, facilitate their rights and movement from the Valley to Kosovo and vice versa, to lift taxes which they're obliged to pay when they cross the border, to recognize them the dual nationality and to open their offices in the capital and Gjilan.
"In the quality of initiator of this demand, I request from Parliament of Kosovo to vote this resolution", said Haziri MP. Prime Minister Hashim Thaci supported the Resolution, but added that it would not be sufficient for a functional role.
Present in this session are also be representatives of the communes of Presevo, Bujanovc and Medvegje. They have supported Kosovo's intention to defend the rights of Albanians.
Meanwhile, several others have considered this as a dishonest approach. "After the talks and agreements for the normalization of relations with Serbia, this entire debate is hypocrisy", said the MP of Self Determination Movement, Liburn Aliu. /ibna/