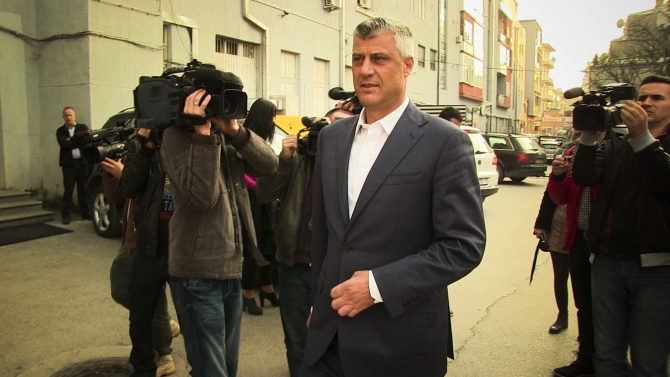 Pristina, November 25, 2014/Independent Balkan News Agency
By Elton Tota
Leader of the Democratic Party of Kosovo declared on Tuesday, following the meeting with the parliamentary group of this party, that he had the support of the group about the agreement reached with LDK and the steps that will be taken to divide power.
He hasn't said anything as to the name of the new PM, but said that work groups from both parties are working in order to draft the governing program.
Thaci reiterated after the meeting that the agreement between the two parties is an agreement filled with values.
"I had the pleasure of informing today the parliamentary group of PDK about the agreement that was reached to build the future institutions of Kosovo between PDK and LDK. I informed them on further steps that we're taking and also about the drafting of a joint governing program."
"I can say that the parliamentary group of PDK offers support for the agreement signed between PDK and LDK. Therefore, we will continue with further cooperation steps, but also to finalize the agreement between PDK and LDK. The agreement between these two parties is an agreement between two parties that share right winged valued", said Thaci.
Since the agreement was reached with LDK, PDK has not yet declared if the post of the PM belongs to this party or the coalition partner, LDK. The latter has even threatened that if it's not given the post of the PM, then it will remain in opposition.
Member of LDK steering committee, Lutfi Haziri says that LDK will take the PM's post.
"LDK has only one name and this was decided by the general committee. He's Isa Mustafa, who will occupy the PM's post if the agreement is implemented in every point. If not, LDK will remain in opposition", says Haziri. /ibna/