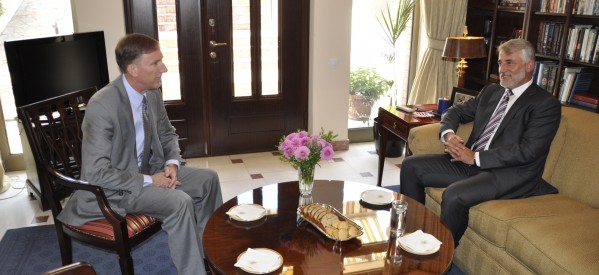 Skopje, July 10, 2013
The leader of PDSH, Menduh Thaci declared that the party that he leads is not interested for early elections and to be part of the government.
Thaci said this after the meeting that he had with the US ambassador in FYROM, Paul Volers in the American embassy in Skopje.
"We are the morale of the Albanian people, the opposition is the morale of a nation. We don't measure morale with numbers. We are not interested for early elections or to be part of the government. We are interested to contribute in the Euro integrating process", declared Thaci.
Commenting on the latest rumors for the deterioration of relations within governing coalition parties VMRO-DPMNE and BDI, the leader of PDSH said that this is an old game of Ahmeti and Gruevski.
According to him, the recent visit of Ahmeti abroad to encourage the solution of the name dispute are only a farce.
"It's not up to Ahmeti. He plays the role of a captain who stands on a ship that it's sinking. There's no way out. The ship, the government of FYROM sinks and together with it BDI and Ahmeti is sinking too", said Thaci./ibna/