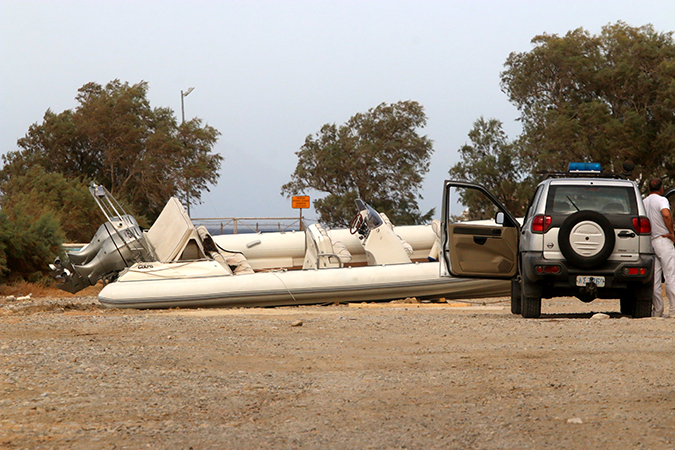 By Lefteris Yallouros – Athens
Greek police has come to the conclusion that a bank robbery that took place in the village of Distomo in central Greece last Friday is connected to known terrorists.
The anti-terrorism squad is involved in investigation of a robbery carried out at a National Bank of Greece branch in Distomo by three armed robbers. The masked individuals fled with 300.000 euros and the bank's cashier as hostage.
Having driven off in a stolen SUV that was later found burned, the robbers boarded a speedboat and crossed the Corinthian Gulf to Kato Loutro, near the area of Xylokastro. The robbers then left the boat, which they also set on fire and got into another car to make their escape.
The dramatic fashion with which the armed robbery was carried out lead police to believe that a partner of terrorist Nikos Maziotis – who was arrested recently in a shootout while attempting to carry out a robbery – is behind the Distomo robbery. Thirty five year old Giorgos Petrakos is thought to be the number on suspect. He is a known accomplice of Maziotis as are the other two suspects – both in their mid forties – who have also been involved in armed robberies in the past. Police believe the pair also have ties to criminal Vasillis Paleokostas.
Fingerprints belonging to Petrakos were reportedly found by police on the boat the trio used to escape.
Police said the Distomo robbery was very similar to a raid at an Alpha Bank branch on the island of Spetses in 2012 which police has linked with Revolutionary Struggle leader Nikos Maziotis. Robbers managed to rob 474,000 euros. The large amounts of cash in both robberies leads police to the conclusion that the culprits on both occasions were informed of how much cash was to be found in the bank safes. The cash is likely to be used by the terrorists to acquire weapons, ammunition and explosives as well as funding for safe-houses and living expenses.
Greek police have for the last few weeks been trying to find evidence on the whereabouts of Paula Roupa, as well as other members of the Revolutionary Struggle terrorist group after the arrest of Nikos Maziotis.