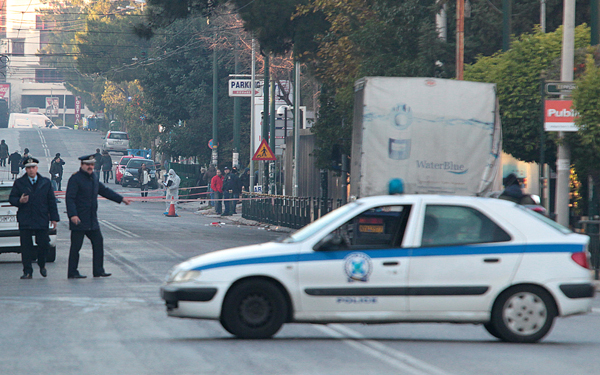 By Lefteris Yallouros – Athens
Unknown assailants fired gunshots at the home of German Ambassador Wolfgang Dold's residence in Athens at 3:40 AM on Monday.
Police said nearly 60 shots were fired with a Kalashnikov rifle with at least four bullets lodged in the walls of the house. Thankfully nobody was hurt by the attack which is considered an attempt by terrorists to put stress on Greece's relations with Germany.
As the country takes over the European Union presidency for six months from January 1st, it is also seen as an attempt to hurt the country's image.
Nobody has so far claimed responsibility for the attack although police arrested six people suspected to have some connection to it. They were released shortly afterwards without charge while investigators examined video from surveillance cameras as well as a stolen car found near the scene.
"Whoever is responsible for this act: You will not succeed in disrupting the close and friendly relations of our two countries," said 55-year old German Ambassador Wolfgang Dold, who was at home at the time of the incident.
Prime Minister Antonis Samaras spoke with German Chancellor Angela Merkel on the telephone Monday, assuring her of the Greek government's determination to bring the offenders to justice.
"The only thing terrorists do not care about is Greece", Prime Minister Antonis Samaras told reporters shortly afterwards.
Foreign Minister Evangelos Venizelos described the shooting as an attempt to cast Greece in a bad light ahead of the country's planned assumption of the EU presidency.
German Foreign Minister Frank-Walter Steinmeier said Germany was taking the attack "very seriously." "Nothing, nothing at all can justify an attack against a representative of our country," he said, adding that the assailants would not succeed in harming Greek-German ties. He also expressed satisfaction at the quick response by Greek authorities.
"This is a clear signal that the bond between Germany and Greece cannot be damaged by such an attack," said a spokesman for Mrs Merkel.
The statement was backed up by a pre-release of an interview to be published in German daily Bild on Tuesday, in which German Finance Minister Wolfgang Schaeuble says "Europe will not turn its back on Greece and the assumption of the rotating EU presidency offers Athens a great opportunity (…)The presidency will show the Greek people that Europe is its future."
The attack drew condemnation from across the political spectrum, with main-opposition Coalition of the Radical Left, SYRIZA, saying it undermined Greece's struggle against austerity.
The residence was the target of an attack in 1999 when members of (now dismantled) terrorist group "November 17" fired a rocket-propelled grenade at its roof.