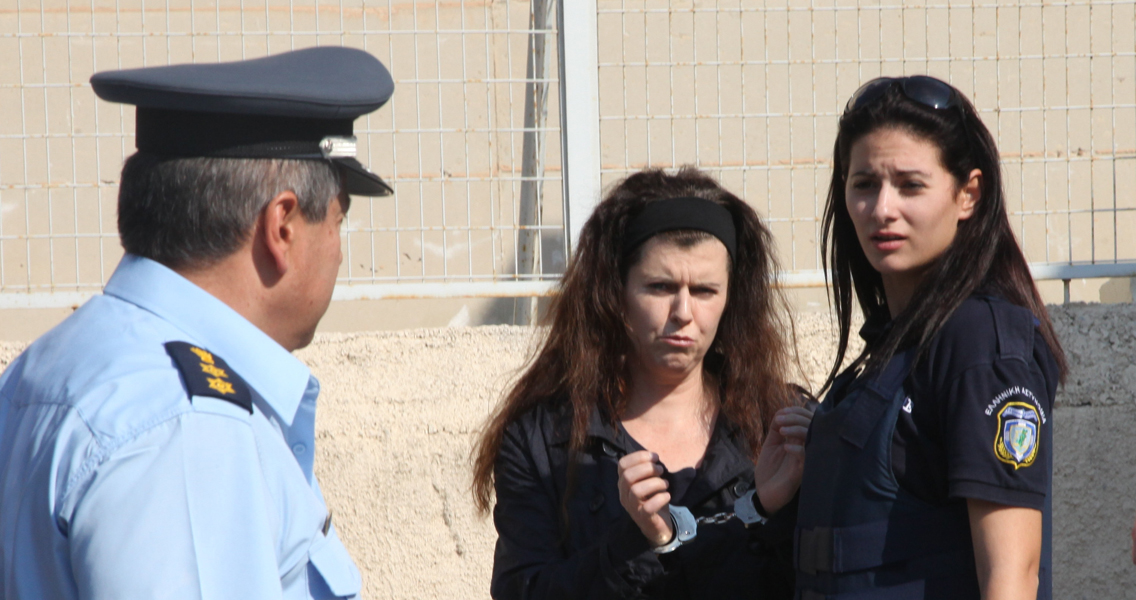 By Spiros Sideris – Athens
Member of the terrorist organisation 'Revolutionary Struggle' and partner of Nikos Maziotis, Pola Roupa, made an appearance outside of Athen's Polytechnic University, leaving photocopies of a long text.
In this he acknowledges that the arrest of a Maziotis was a blow, however, she defended the armed struggle, saying that "Revolutionary Struggle and systemic stability were always two inversely related conditions".
The about 7,500 words text of Pola Roupa, was left out of the parking  space of the Polytechnic University on Friday in photocopied copies to be read in the event "Armed Struggle, Revolutionary Movement and Social Revolution".
Rupee initially sent a message to her partner Nick Maziotis saying that she knows he is being strong and that "no matter how many shots they fore at us, they will not defeat us. The Revolutionary Struggle will never die".
"The stronger message is that the struggle continues", says Roupa.
Continuing on her analysis for the armed struggle, she estimated that new preventive measures will be taken as "the state wants to eliminate any possible future  Revolutionary Struggle. Even subversive slogans will be criminalised in the near future", she says.
She also argued that the armed movements is the great nightmare of the system and recalled that when the debt crisis broke out in Europe, there was the fear of uprisings, especially in southern European countries.
She continued accepting the reports, which as she said, classify the Revolutionary Struggle in a first grade and dangerous political threat to the cohesion of the political and economic system, commenting references of a member of the government, according to which, "a big hit could end the economy within hours".
She also referred to the arrest and Antonis Stampoulos, saying that there was panic in the thought that influential members of the country's and  multinationals economic elite could be targeted.
"In a nutshell, Revolutionary Struggle and systemic stability were always two inversely related conditions. The strengthening of the Revolutionary Struggle creates imbalance and instability in the system; its weakening contributes decisively to the stabilisation and perpetuation of the system", says Rupa.
She commented that "it would be a great achievement if we were to create a pan-European network of armed action that would be able to hit supranational political and economic mechanisms".
Greek police remains on a state of alert in fear of a new "loud" hit by a terrorist organisation aimed at playing down the recent success of the antiterrorist unit.