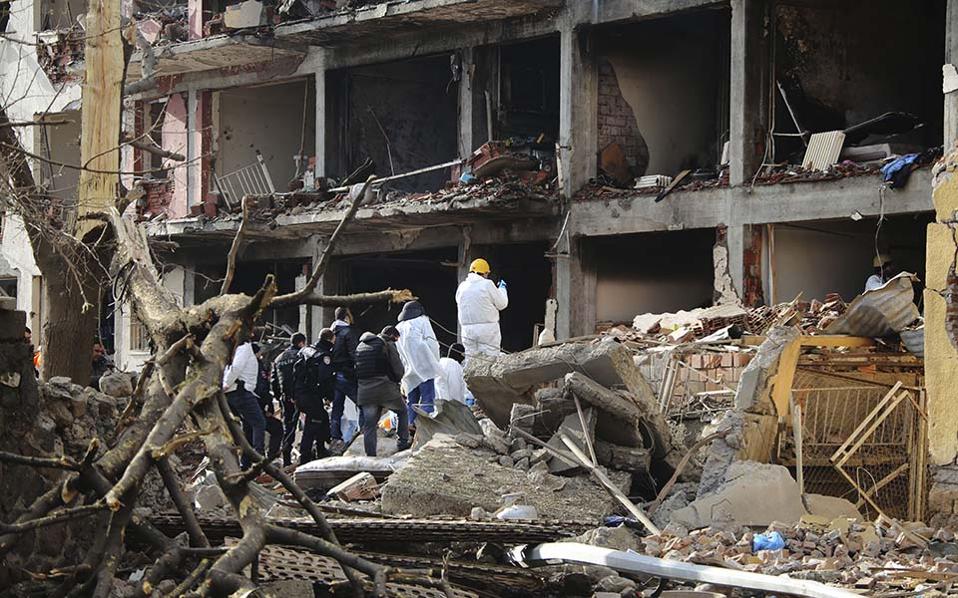 Athens, January 15, 2016/Independent Balkan News Agency
By Manolis Kostidis
Turkey is in the epicenter of continuous terrorist attacks that pose many questions about the safety of the country. After the hit in Istanbul that killed 10 tourists and injured another 15, this time an attack occurred in Diyarbakir of Southeastern Turkey.
Six dead, among them a woman and a child, and 43 wounded is the outcome of the PKK attack on a police station and the residential of gendarmerie officers.
The attack began with a car bomb and continued with assaults of the members of the PKK with weapons and rockets. The clashes began at dawn Thursday and were raging into the early hours.
The Turkish government has launched major military operations involving 15,000 men, backed by tanks and helicopters, to fight these rebels within cities. The cities Silopi and Cizre, as well as Diyarbakır's historic district of Sur have been turned into battlefields with tens of thousands of residents to fleeing their homes. Yesterday's attack is considered reprisals by the PKK for these operations.
Extraordinary security measures have been taken in Istanbul as the Turkish authorities are still on a state of emergency for aspiring suicide bombers. What's more, the friends of the perpetrator of the massacre in Sultanahmet Square, who together had filed a request to obtain a residence permit in Turkey, are still eluding authorities.
Parents of the 28-year old suicide bomber told the Turkish media that members of the Islamic State had informed them that their son has been killed in December in the battles with the Kurds and were ignorant of what was to happen.
The Turkish authorities have arrested seven people linked to the hit and are being interogated. As for the three Russians who were arrested in Antalya and are associated with the Islamic State, Moscow announced that one of them is the Tatar origin Aydar suleymanov, who is associated with the jihadists, and that he was a target of Interpol.
Ahmet Davutoglu said that the Turkish armed forces, using artillery fire, hit targets of the jihadists in Syria and Iraq, killing 200 members of the Islamic State. The Turkish Prime Minister accused Russia of targeting civilians in Syria and stressed that "if they won't strike at the jihadists let us do it!".
Photo: Kathimerini.gr