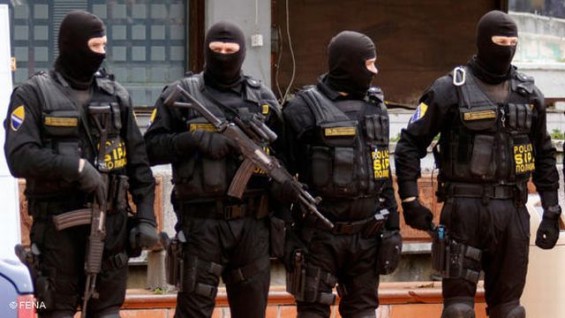 Sarajervo, November 19, 2015/Independent Balkan News Agency
By Mladen Dragoojlovic
Two professional soldiers of BiH Armed Forces were killed by a gunman on Wednesday evening in Sarajevo in a brutal terrorist attack, the second this year in BiH.
According to Media reports, the gunman identified as Enes Omeragic, went in the betting shop in Rajlovac, few kilometers out of Sarajevo, armed with AK47 and opened fire at a group of soldiers. After he killed two and wounded another, Omeragic fled from the place and opened fire on the bus, which was receiving passengers on the near station. Then he went to his house and when police surrounded him, he committed suicide with a hand grenade.
Soldiers, Armin Salkic and Nedeljko Radic, were out of duty and unarmed. The gunman killed them with several shots and they died on site, before the ambulance arrived in Rajlovac. As it was reported, Omeragic was in the betting shop a few minutes earlier and one Chinese citizen, who is owner of the China Shop in Rajlovac, asked him for cigarette. Meragic made a joke saying that this citizen of China traveled a long way to ask for cigarette. Then Omeragic went to his house, took the AK 47 and attacked the soldiers.
Omeragic was follower of Salafi movement and his brother-in-aw spent some time in Syria, fighting on the ISIS side. Omeragic was not in Syria but openly supported the jihad. His father said that he was saddened by the death of his son, but he would not go to the funeral, because Armin killed two young soldiers.
"I am in deep sorrow because of the death of my son, but I regret more the lives of soldiers my son killed", Sahin Omeragic said.
The state Prosecution office is responsible for this case and characterised it as a terrorist attack. All organizations and institutions, local and international, condemned the attack and most of them emphasised that this case shows that BiH is not protected by terrorism. Since one of killed soldiers was Bosniak, and another was Serb, this attack, according to deputy of BiH minister of defence, Emir Suljagic, is also attack on the coexistence and reconciliation in BiH.
International Community High Representative, Valentin Inzko, also condemned the attack and called on responsible security agencies and competent authorities to conduct a swift and thorough investigation.
"This is a serious and tragic incident in which members of the BiH Armed Forces, two human beings, two fellow citizens, lost their lives. Everyone should refrain from politicizing this serious event and let the institutions work unhindered. I am confident that a speedy and full investigation will be conducted by the law enforcement and security agencies in BiH", Inzko says in written statement.