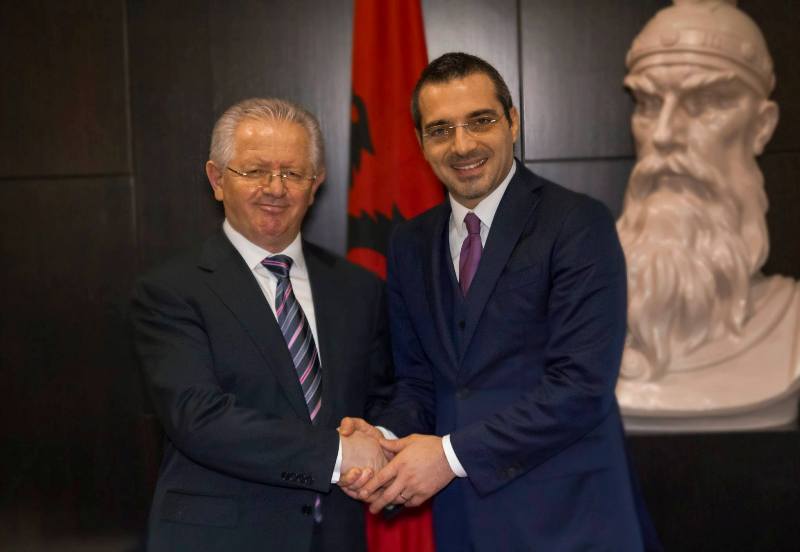 IBNA Special Report
Tirana, January 30, 2015/Independent Balkan News Agency
By Edison Kurani
Albania and Kosovo decide to collaborate in the fight against terrorism and organized crime. This was agreed in a meeting that took place in Tirana between the Albanian Minister of Interior, Saimir Tahiri and his counterpart from Kosovo, Skender Hyseni.
Ministers Tahiri and Hyseni stress the necessity of expanding the domains where other agreements against organized crime, terrorism, etc may apply.
They declared that some of these agreements will be signed in the next meeting between government of Serbia and that of Kosovo, which is expected to be held in Tirana.
Kosovo involved in European investigations
Albania has decided to participate in joint investigation group appointed between EU countries. Experts of Albanian Police are being involved in joint investigations on issues of terrorism, where Albanian citizens are not necessarily involved.
Meanwhile, Albania and Italy decided to appoint a joint investigation group on concrete issues that relate to terrorism. Both sides have agreed for Kosovo and police of Kosovo to soon become part of joint investigative groups and of a special joint investigative group where Italy is part. This was agreed considering the fact that fight against terrorism and criminality in general doesn't recognize borders and it doesn't stop regardless of the progress of each country in the framework of European integration.
Tahiri-Hyseni: War against every tendency for radicalism
Albanian Interior Minister, Saimir Tahiri says that the two governments are working not only on domestic issues, but also issues that have a global impact such as fight against radicalism, extremism and terrorism.
"It's clear to us that the events that took place in Paris launched a new chapter for Europe in general, for the Balkan region in particular and it's also necessary to launch a new chapter of intensive and concrete cooperation, on a political and operational level, in order to jointly achieve successes in the fight against any tendency of radicalism.
Tahiri says that so far, there has been cooperation, but adds that "there's still a lot to be done, in order to achieve solid results in the fight against organized crime, especially in the fight against terrorism.
Meanwhile, he admits: "Events in Paris showed us that the question as to whether the country is safe from terrorism-a question which applies to everyone- is a question that cannot receive a certain answer. Therefore, violent extremism is an issue that we must seriously tackle".
Minister of Interior of Kosovo says that police and law and order institutions in the country, have made the fight against violent extremism and terrorism a priority. Hyseni says that as far as the fight against terrorism and radicalism is concerned, "there will be efforts and focused efforts with the Albanian side in order to tackle these issues".
Extra lesson from Paris
Paris seems to have offered an extra lesson in order for Kosovo not to delay its action against terrorism.
Therefore, a few days ago, Kosovo went through the first voting of the bill which forbids the participation of Kosovo nationals in foreign conflicts.
This law is considered as a basic framework to face this phenomenon. The government of Kosovo says that it doesn't want the country to turn into a country of origin for terrorism.
Hyseni says: "We must make sure that Kosovo and Albania are not turned into countries of origin, transit or harboring extremist fighters that aim at joining unfair foreign conflicts".
Albanians in the ISIS fights
But, are there concrete cases of investigation for Albanian nationals who have been involved in foreign wars? Do they continue to go to Syria in order to join ISIS?
Minister Tahiri confirms: "Of course. Albanian police is conducting full procedures for each national who has been confirmed or simply suspected of having participated in fighting a war which doesn't belong to the Albanian state. It's our own absolute priority and that of international partners not to allow people who leave Albania in order to fight a foreign conflict, in order for extremism and radicalism to be under strict observation of Albanian Police in order to prevent the wave of radicalization to be transported back to Albania".
In the recent months, there have been criminal prosecutions which have not been concluded and there are others under way. Tahiri says that "this is something which will never be concluded with the speed that we all want".
NGOs who support ISIS in Kosovo
Authorities in Kosovo say that Albanians of Kosovo have been involved in the conflicts in Syria and Iraq. What's more, in this country there are several organizations from Eastern countries, which are suspected of supporting terrorism. "Police and other security institutions in Kosovo are constantly monitoring possible funding channels and several so called NGOs whose activity doesn't have that much of an NGO character", says Mr. Hyseni.
"We have made great progress, -adds he, -in identifying, prosecuting and arresting a number of suspects or people who are involved in private or public propaganda".
Instigators of terrorism in the recent protests?
Media has raised suspicions recently for presence of terrorism instigators in the protests held in Pristina recently, which saw the use of violence and tens of wounded. What's the likeliness for this? Kosovo's Interior Ministry is convinced that: "No, there haven't been".
It adds: "They are nationals of the Republic of Kosovo, who have come out on protest and unfortunately, some of them have chosen to protest more than they should! Thus, the protest has taken an unpleasant course. This is the truth". /ibna/