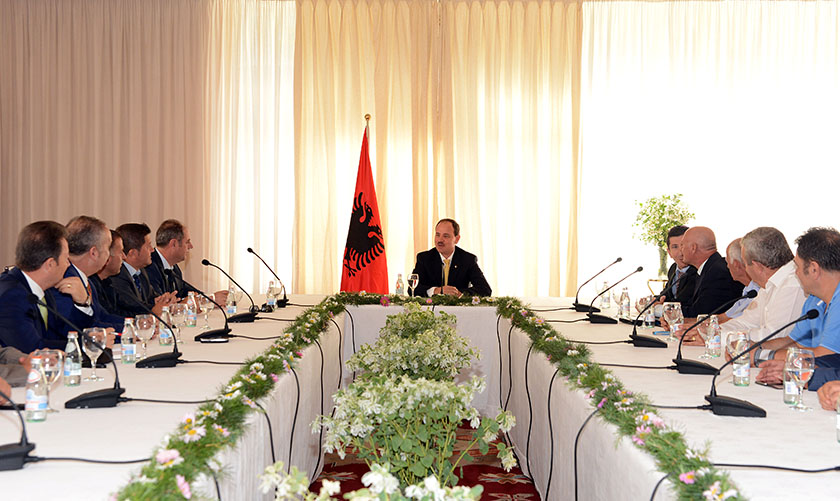 Tirana, August 20, 2014/Independent Balkan News Agency
The President of Republic, Bujar Nishani had a meeting today with representatives of the Association of Communes of Albania to discuss the new territorial reform.
During the meeting that was held this morning, president Nishani said that this meeting comes as a response to the requests and complaints coming from stake holders, associations and representatives of the local government and Association of Communes about the territorial reform, but also because before the President of the Republic issues his decree, a consulting meeting was needed for such important issue.
The head of the state considered the territorial reform as "an important national issue, which has a direct impact on the citizens in every corner of the country, on their problems, on the development of the territory and economy, infrastructure and protection of the environment and also national security.
President Nishani declared that this important reform, which requires expertise and professionalism, puts a responsibility on the shoulders of all those who happened to be decision makers in this given moment, adding that there are tens of letters, petitions from citizens, where they express their complaints, requests and their referrals in relation to the process that preceded the drafting of the law which is expected to be deliberated by the head of the state.
President Nishani pointed out that the reform in question must first of all harmonize the vital interests of the Albanian citizens with those of the state.
The president guaranteed that he fully supports the incentive of the government for the territorial reform, considering it as a very important issue, but also added that this reform must be made in full compliance with the national interests and it must be a process based on the Constitution and laws of the country.
The participants expressed their recognition for this meeting with the head of the state and the possibility that they were being given to convey the concerns of the citizens that they represent. They were given assurances by president Nishani that he will be a strong voice to articulate the public interests and the problems of the citizens, stressing the need of the creation of a consolidated image of the Albanian state. /ibna/