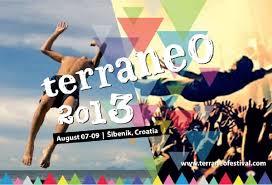 By Natasa Radic – Sibenik
The third Terraneo festival begins this week on Wednsday in Sibenik and runs until August 10th.
The artists who have confirmed their arrival are: The Prodigy, Wu-Tang Clan, My Bloody Valentine, Azealia Banks, Aloe Blacc, Calexico, The Cribs, The Bots, Cloud Nothings, Woods, Mambo Kurt, Bosnian Rainbows, Duncan Sheik, Koan Sound , Blond:ish, Pinkunoizu, Dubioza Kolektiv, Darkwood Dub, Kawasaki 3p, Postolar Tripper, SevdahBABY, My Buddy Moose, Vlasta Popic, Kranksvester, Peses, Svi na pod, Eyesburn, Straight Mickey and the Boyz, Chew the Fat! Croatia and Icarus Down.
The organizers have announced the excellent and worldwide famous music program, the local bands, DJ performances, non-stop party zone, workshops, lectures, exhibitions and performances, camping and a number of entertainment facilities.
Terraneo is being held in an abandoned military barracks near the center of Sibenik, which during the festival becomes a small town full of positive atmosphere. In the heart of Dalmatia and always in the second weekend of August, Terraneo is the perfect entertainment offer during the tourism season in the region, which makes it an attractive destination for thousands of young urban people who want entertainment.
Terraneo is becoming the leading music event in the region to develop and nurture the concept of socially responsible and environmentally conscious entertainment. The organizer said that the intention of the festival is to promote the natural wealth and beauty of the region and present Sibenik and Croatia as an attractive world tourist destinations.
MasterCard Europe, Erste Card Club and Erste Bank in cooperation with the organizers have introduced the Terranea festival special festival card and contactless payment, thus reducing the crowds, waiting in lines, and unlike the use of tokens,  the amount on the  card can be refunded – and this makes all the purchases simpler and quicker.
In this way it influences the safety of the festival and visitors because with them you do not have to carry large amounts of cash, which reduces the possibility of theft -the organizers of Terraneo and supporting banks stated.