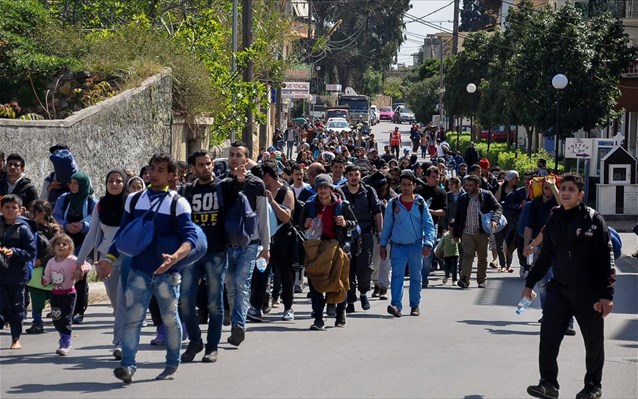 Athens, July 19, 2016/Independent Balkan News Agency
By Spiros Sideris
The situation at the hotspot at the former factory of Viale in Chios is reminds of a boiling cauldron, with the refugees, mainly from African countries, having closed off on Monday for more than five hours the road leading to the host center.
About 100 refugees, the majority from African countries, protested for the fact that their applications for asylum have not been processed yet, despite the fact that some of them are on the island for four months. This is in contrast with those of the Syrians, which as they state are processed quickly.
The protesters also raised once again the food quality issue, the lack of water and living conditions in the hotspot.
Initially refugees protested inside the hotspot of Viale, blocking off the offices of the asylum service. Then they moved their protest outside the hotpost closing the main road for more than five hours with metal mesh and barrels. Also, women and children held placards and shouted slogans.
Finally, late in the afternoon, the protesters left after the intervention of Police Director Chios Dimitris Avgerinos, when it was agreed that tomorrow, Wednesday, at 10 am there will be a meeting with five representatives residing in the hotspot. The meeting will be attended by the deputy mayor responsible for Chios, Giorgos Karamanis.
At the site there was also a platoon of the riot police without having to intervene.
A young Afghan wounded a 16-year old compatriot with a knife
In intensive care at the Chios hospital is being hospitalized since the morning a 16-year old Afghan, who was injured in the chest cavity with a knife by a 18-year old compatriot.
According to information from the ERT Aegean station, the child was seriously injured with knife by a 18-year old compatriot at the hot spot of the Viale on Monday evening, after exchanging words over a football dispute.
The 18-year old perpetrator is also hospitalized at the same hospital, having sustained injuries after receiving blows from his countrymen after the incident.
Two boats with 63 refugees crossed to Lesvos
Two boats with 63 refugees crossed to Lesvos in the period between Monday and Tuesday morning, one on the north side of the island and the second off of Mytilene.
This is the seventh consecutive day that boats arrive in Lesvos, after a long period in which such phenomena had not been observed. In contrast, no refugee crossed to Chios and Samos.
On Tuesday morning, after the implementation of the EU – Turkey Agreement, in Lesvos there have been 3,064 refugees trapped, in Chios 2480 and in Samos 1081. In total, in the islands of the northern Aegean there are 6625 persons, the majority of who have applied for asylum.