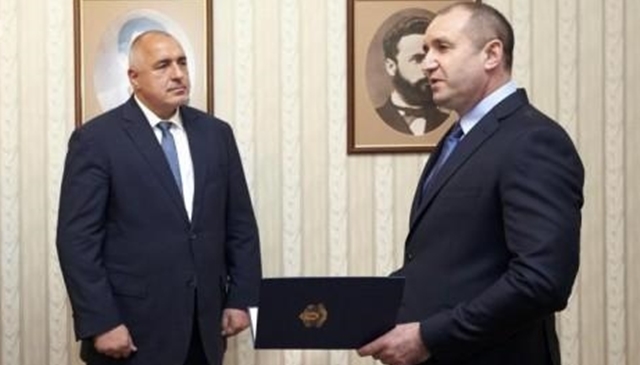 The difficult relationship between Bulgaria's President Roumen Radev and Prime Minister Boiko Borissov's governing majority show no sign of dissipating, as the parliamentary leader of Borissov's GERB party repeatedly criticises statements by Radev.
Since Radev took office in January 2017 after winning election on a ticket backed by the opposition Bulgarian Socialist Party, there have been periodic verbal skirmishes, with occasional denials of tensions.
In several cases, the most open criticism of Radev comes from GERB parliamentary leader Tsvetan Tsvetanov.
Over the past two days, Tsvetanov has bluntly criticised Radev for what he said, and did not but should have said – in Tsvetanov's view – in an interview with public broadcaster Bulgarian National Television on November 10.
In the interview, Radev reiterated that there was a war against the presidential institution, which he had not started. He made this statement to justify his sharp tone at times.
"You see that a whole parliamentary committee was used to denigrate my name," Radev said, referring to the special committee set up to investigate the fighter jet acquisition process. Radev, formerly the commander of the Air Force, said at the time that the committee was set up that it was intended as a 'tribunal' against him. The committee was set up at the initiative of GERB.
Radev said that the authors of the campaign against "clearly underestimate the Bulgarian citizens. I follow my credo by which I entered politics a year ago. Sovereignty, security, legality, justice, anti-corruption".
At another point in the interview, he said: "I have long stated that Bulgaria has no political will to fight high-level corruption".
Radev said: The president has very limited powers, but he can always uphold the truth, and it is a strong weapon even when the media show it only after the criminal chronicles. Even when they did not broadcast the messages from the meeting of the four presidents that day. But for me this is understandable because there are still politicians for whom national reconciliation means an end to their hate politics, and such news is not right to emerge in appropriate places.
"So my power is in proclaiming the truth, and I believe that many Bulgarians will stand behind it. Let's say anti-corruption, where we all await effective action, but we get ineffective legislation and toothless organs."
Radev also made comments that today, democracy was in retreat, and said that Bulgarians had left the country in their millions because their hopes for the period of the transition to democracy had been dashed.
Tsvetanov, reacting the following day, accused Radev of seeking confrontation between the institutions of the Bulgarian state.
"We are doing everything possible to become leaders in the Balkans and I did not see the President acknowledge that as holder of the highest representative office in the country. Perhaps he is jealous of what Prime Minister Boiko Borissov does and this makes him uncomfortable and he is deliberately seeking confrontation," Tsvetanov said.
The President should play ball and all politicians in Bulgaria should support "the centre forward" Borissov in the role that he, according to Tsvetanov, was playing to elevate Bulgaria in the EU and on the world stage.
In comments on November 13, Tsvetanov continued his attack, saying that "the President feels he is not wanted on the European stage, which leads to envy, which is unacceptable for a statesman, and I attribute his actions to the fact that he is not the factor he wanted to be".
Tsvetanov also took exception to Radev having said that Bulgaria had no strategic goals now that it had joined Nato and the EU.
The GERB parliamentary leader also criticised Radev for not having commented on various domestic political issues, including the reported proposal by opposition BSP MP Alexander Paunov to have a referendum on whether Bulgaria should continue to be a member of the EU.
According to Tsvetanov, someone was trying to divert Bulgaria from its European path.
The tensions between the institutions are likely to be unabated as Bulgaria heads into its rotating presidency of the EU in the first half of 2018.
There was concern in some quarters earlier this year when it seemed that, as the guest of Radev, Russian president Putin would be in Bulgaria on March 3, as Bulgaria celebrates its national day, commemorating the Russian victory in its war with Turkey that led to Bulgaria being freed from Ottoman rule.
It has emerged that there is now no apparent plan for Putin to be in Bulgaria in March. Radev was asked about this in the BNT interview, and said that a convenient date for a Putin visit was being sought but had not yet been established.
Radev had been seen, at the time of his election, as "pro-Russian", which he denies, saying that he seeks "balanced" relations with Moscow. Recently, he was criticised by Russia for his comments about that country's foreign ministry claiming that the Red Army had saved the Bulgarian Jews from the Holocaust.
The episode came after some attempts over recent months by Borissov to improve relations with Russia. In this, theoretically Radev and Borissov more or less want the same thing, but given the prospect of continuing tensions, it is difficult to see how any attempt at harmonising approaches would be achieved – or if anyone in the rival camps really wants the risk of credit for any achievement going to the other side…/IBNA