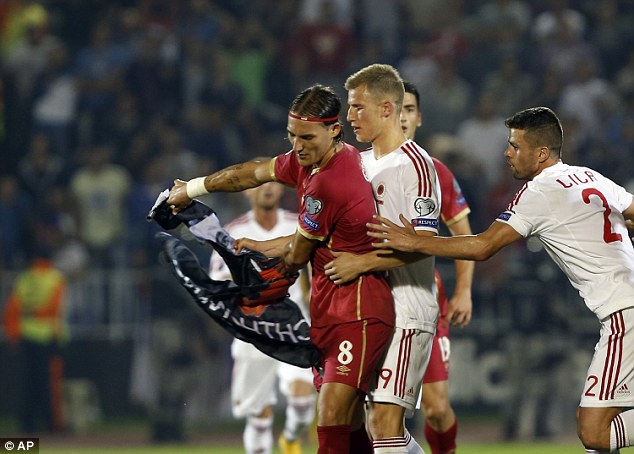 Tirana, October 15, 2014/Independent Balkan News Agency
A tensioned match was held on Tuesday evening in the "Partizani" stadium of Belgrade between the Serbian football national side and the Albanian one.
This match was being held in the framework of the France 2013 Euro Qualifiers.
Only 41 minutes were able to be played in the game. They were featured by frequent suspensions, as both sides claimed for irregularities.
The match saw very few goal opportunities and until the 41st minute when it was suspended, it was nil nil.
In the minutes when the match was suspended, a flag with the Albanian symbol of the eagle with the two heads, illustrated with the text "Autochthonous" flied over the stadium. One of the Serb players managed to catch it and helped by others, they started to damage it. Albanian players immediately intervened wanting to defend the Albanian national symbol.
Serb fans entered the field chanting "nationalist provocation". The situation got out of hand, accompanied with acts of violence between the two teams and the fans.
In a few minutes, the situation was put under control by security forces.
An hour after the incident, UEFA announced the final suspension of the match. It said that it would gather to decide on the fate of the game.
The reactions in Albanian speaking areas were filled with strong doses of patriotism and critical against Serbs. In Tirana, thousands of people got out on the square and then went to Rinas airport to receive the national team with ovations.
In several other Albanian cities too there were also massive gatherings in squares and main roads.
A similar situation also ruled in Pristina (Kosovo), Tetovo (FYROM), etc. Local police have not reported any problematic incidents. /ibna/