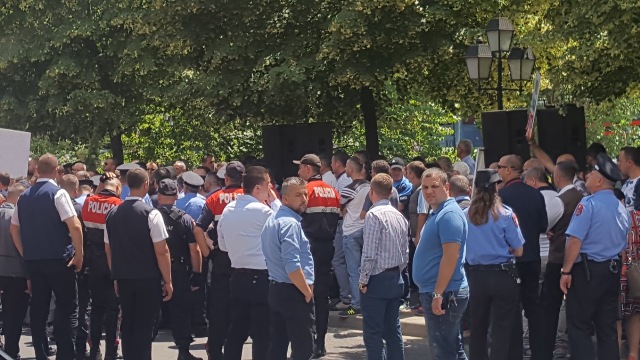 Tirana, 6 June 2016/Independent Balkan News Agency
The declarations issued by PM Rama two days ago at the congress of Tchams where he fueled the crowd by making them promises seem to have been reflected today by the tension caused by a protest held by the Tchams during the meeting between Foreign Minister of Albania and Foreign Minister of Greece.
A number of protesters blocked the street near the Albanian Foreign Ministry building in an effort not to allow the Greek Foreign Minister Kotzias to hold the meeting with Bushati.
The situation was aggravated at 10 am. Albanian Foreign Minister Bushati came out in front of the crowd to calm it down.
After communicating with the head of the Tcham party and vice speaker of Parliament, Shpetim Idrizi, the latter demanded to the crowd to open the road.
This was achieved partially. To calm the situation down, Mesila Doda MP called on the crows to open the road and the Foreign Ministry's main gate.
Under these circumstances, the Greek Foreign Minister and the delegation accompanying him, were obliged to enter from the side door at 10.15 in order to start the meeting which will discuss Athens' package of proposals which aims at putting an end to the disputes between the two countries.
More: Greek Foreign Minister is received with protests in Tirana