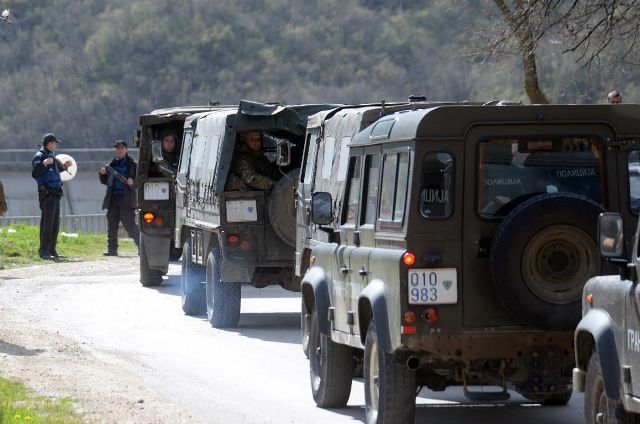 IBNA Special Report
Skopje, April 22, 2015/Independent Balkan News Agency
By Naser Pajaziti
Yesterday's incident in the border area between FYR Macedonia and Kosovo, when an armed group took a police border post under control, has mounted tension and debate in Skopje.
Police said that this was an armed group which held uniforms of UÇK (National Liberation Army) and that this group had entered the border post in the mountain village of Goshinca, holding hostage four officers of the post for several hours, after which they were freed.
Last night, an organization which declared that it was called UÇK assumed responsibility for this attack, but it didn't offer any further details.
Special units and police forces are patrolling a perimeter of 15 km in this area which is only a few km away from the border with Kosovo. The border area also continues to be patrolled by police helicopters, while OSCE teams are on field since the early hours of the morning.
Government and security agencies have considered this a terrorist act against the state.
The security council gathered last night in Skopje, presided by president George Ivanov. Present in this urgent session was also PM Nikola Gruevski, ministers of defense and interior and the Army's Chief of Staff.
The meeting has decided on boosting security measures and for all responsible institutions in the country to be alert in order to keep the situation under control and to guarantee law and order.
All political parties have appealed for calm while institutions are required to guarantee security for the citizens and shed light upon this incident.
Party in power, VMRO-DPMNE said that this attack is a terrorist act which aims at causing instability in the country.
"Citizens must stay calm and not allow scenarios which aim at causing instability", VMRO-DPMNE declared.
But, Macedonian opposition blames the government on this incident.
"The incident is a scenario prepared by the government in order for government officials to evade criminal responsibility. All of those who assist this scenario, are accomplices in the government's attempt to evade responsibility on possible criminal acts which are being unveiled by the opposition through the registered conversations", declared vice chairwoman of SDSM (Macedonian Social Democratic League), Frosina Remenska.
Democratic Union for Integration (BDI), which is a successor of the former National Liberation Army which was active in the 2001 conflict in FYROM, says that the incident taken place in Gushinca is an act that damages the agenda of Albanians in FYROM.
"We demand from institutions to assume responsibility in order to guarantee security for the citizens and shed light upon this event as soon as possible. We demand more regional cooperation to guarantee stability and restrict these groups which want to prevent the agendas of integration and reconciliation", BDI said.
Vladimir Pivovarov, professor on security issues at FON University in Skopje, told IBNA that this situation is contradictory and according to him, none of the armed groups or terrorist groups are conveying their messages this way.
"The information that we have so far, especially the declaration of the spokesman of the Ministry of Interior on the incident at the border police post, do not correspond with reality. Armed groups or terrorist groups can never convey their demands like this. These groups are always legitimized with their demands, which is not the case this time. But, bearing in mind the political crisis in Macedonia, this is the best way to attract attention. This is the worst way that these organizers have chosen to attract attention and orchestrate cross ethnic conflicts", said professor Pivovarov.
OSCE is monitoring the situation on field and hasn't commented the recent event. Kosovo authorities have also increased the number of patrols on the border with FYROM. /ibna/