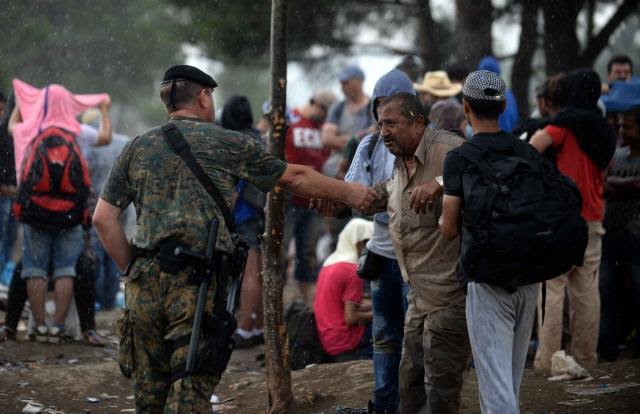 Skopje, 21 August 2015/Independent Balkan News Agency
By Naser Pajaziti
A tense situation continues to rule in the south of the country, as authorities have decided not to allow refugees to get in the country. Thousands of refugees continue to remain in the border between FYR Macedonia and Greece and they have blocked the movement of trains.
But, in several cases, police have managed to remove the crowds of refugees from the railway tracks.
This morning, security measures have increased and military forces have been deployed. Barbed wire fences have been installed in several parts of the border and special units have been deployed in order not to allow the entry of refugees mainly from Syria, Iraq, Somalia and other Middle Eastern countries.
A serious incident was registered last night, where a police officer was stabbed to death by a refugee. The event has taken place near the railway station of Gevgeli. Ministry of Interior informed about the incident, underlining that the refugee, who is still unidentified, has stabbed to death a police officer.
Some local portals have informed that refugees have complained about the use of force by police. A Syrian woman was admitted to hospital today, after, according to her, she was hit by a police officer.
Government introduces security measures on the border, the prime minister justifies the decision
Government of FYROM has kept in force the temporary security measures with the scope of securing borders and the movement of emigrants that enter the country from Greece.
PM Nikola Gruevski declared that due to the growing number of refugees, an emergency state has been declared in border areas in the south and the north of the country.
"Our country is a transit country and it's important that we tackle the large number of refugees. We have taken extraordinary measures because the number of emigrants is reaching 4 thousand a day entering the country. Their entry and their stay poses a problem and we have taken extra security measures to control the entry of refugees", Gruevski said.
The European Commission's reaction
The European Commission has reacted today in relation to the tense situation with emigrants in the southern border of the country. The press office of EU enlargement commissioner, Johannes Hahn declared that FYROM has the right to control its borders and prevent the entry of those who do not meet the criteria.
"The Commission has been informed about the decision of the government to announce the emergency situation on the border. We're ready to offer humanitarian aid", reads the announcement issued by Hahn's office. The European Commission is in the final stage of approving another package of financial aid for FYROM in order to cope with the number of emigrants entering the country. /ibna/