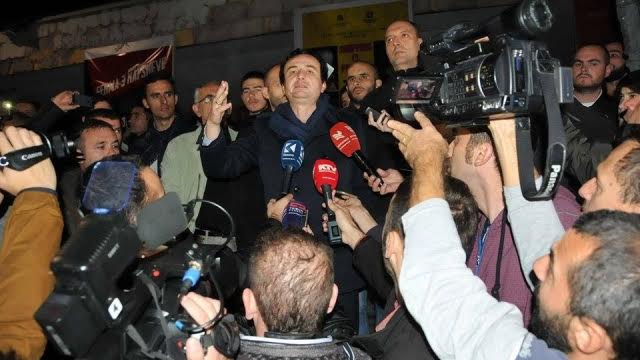 Pristina, 13 October 2015/Independent Balkan News Agency
By Elton Tota
On Monday around 9 pm, Kosovo police have arrested the founder of Self Determination Party, Albin Kurti, in relation to his violent acts in the parliament of Kosovo.
Kurti's arrest has gathered a large number of opposition supporters, who have protested in front of the police headquarters in Pristina demanding his release.
The situation became tense when opposition supporters have thrown stones and other strong objects against police.
Under these circumstances, special units of the Ministry of Interior were forced to use tear gas to disperse the angry crowds, IBNA news agency understands.
Besides material damages, these clashes did not cause any victims. One single person received slight injuries, but he was rushed to the hospital for treatment.
In order for the situation not to escalate any further, a decision was made to release Kurti.
The latter has delivered a speech in front of the Theater of Kosovo, launching strong accusations against police and considering it as an instrument of the government.
Minister of Interior, Skender Hyseni has reacted after these events. He said that the opposition is attempting to install anarchy in Kosovo.
"Opposition's MPs against parliament and Kosovo police are an attempt to install the logic of anarchy and the logic of force, but such thing will not be allowed to happen", Hyseni said.
Kurti's arrest and the violent protest of the opposition were also commented by MP Melihate Termkolli.
"This is an act which damages the state's interests. These are elements of anarchy and this is a dangerous situations. These actions are typical Marxist like revolutionary actions. Power cannot be seized through violence in a democratic state, but the actions of the oppositions must be taken seriously. The majority cannot behave as if nothing has happened. It must offer a solution and must find a way to stop the situation from escalating much further", she said. /ibna/