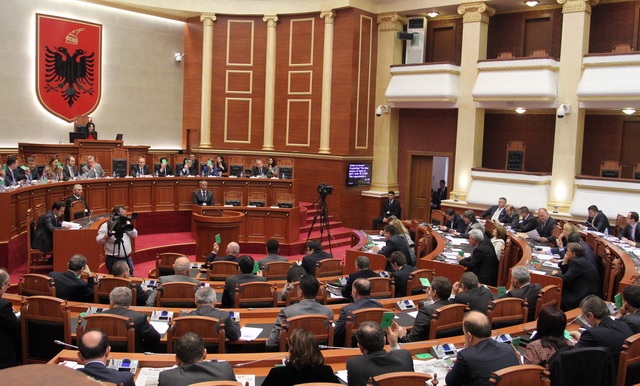 Tirana, April 18, 2013
By Ariola Imeri
Following the tense parliamentary session because of the situation in the Central Elections Commission after the dismissal of the SMI representative the resignation of two Socialist members Denar Biba and Albana Shtylla, Head of the Socialist Parliamentary Group Gramoz Ruçi said that this act executed the independence of the institution.
He said that it was murdered the independence of the Central Elections Commission since in our country the Constitution and the law are being violated.
"This country lacks everything, but above all lacks parliamentarianism. We do not suffer from lack of laws but from law enforcement since this country doesn't have governors, but rulers instead." In which Parliament one says to the opposition that you will go to hell. You will go to hell, because, in this country justice is bought, health is bought
and the workplace is bought. You will go because no independent constitutional institutions exist, there is no free vote. You will go because you have left Albania as the last country of growth, and the first in Europe for corruption.
Something terrible has taken place in this room. There is no majority since you have come here by stolen votes," said Ruçi in the Parliament.
Chairman of the Socialist Parliamentary Group stated also that exactly two months before the elections take place, the Central Elections institution is non-existent, and parliamentarianism is dead.
Ruçi noted that this situation is not to lament but to mourn and said that the Socialist Party will not propose CEC members since the institution was "desecrated, taken hostage and politicized."
In this way, what is offered by this pseudo-majority is citizens to vote and the votes to be counted by the majority.
In his response, the Democrat parliamentary group leader Astrit Patozi said that Edi Rama's goal is to ruin the elections.
He pledged that despite of any position held by the Socialist leader, elections will be held, but he noted that by blocking CEC Rama is avoiding law and constitution, but laws guarantee elections.
"Elections will be held free and fair under the terms of this majority. The elections will be won by the DP for a thousand reasons. Replacing a CEC member can't be a matter of SP and DP; we have the electoral battle with SP. Although SP and the opposition are not being violated at all at CEC," said Patozi.
In his response to DP's Patozi, Ruçi said that the Democratic Party and the majority have crossed the red line, thus compromising the path towards the European Union, while extending an invitation to correct the mistakes. He described the resignation of two members of the CEC as a disgrace to politics since they resigned due to the violation of the law which was not guaranteed, and underlined that it is not too late for turning back to normalcy. /ibna/