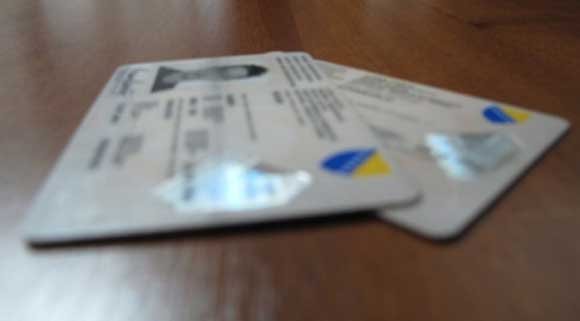 By Maja Tuljković – Sarajevo
An identity card is a mandatory document, as it is stipulated on the Law on Identity Cards of B&H Citizens. However, tends of thousands of citizens do not have this document.
The act stipulates that an identity card is unique for all citizens and is valid on the entire territory of B&H. This is a public document that proves identity, place and date of birth, place of residence for displaced peoples and B&H citizenship. B&H citizens could use the identity card to cross the state border in certain circumstances and under the conditions laid out in bilateral agreements between B&H and other countries.
Despite this, nearly 10.000 B&H citizens at this moment do not have an identity card, nor do they possess other identity documents, according to research conducted by Anadolija. This is a problem that is a serious problem in B&H in which no one in B&H, not one sociologist, social worker, psychologist of political scientist is dealing with.
According to data from the Agency for Document Identification, Registers and Data Exchange (IDDEA), of the 3.271.938 citizens of B&H, who on the basis of age have to right to obtain an identity card, 92.319 do not have basic identification documents.
In the FB&H, the most number of citizens who have the right to obtain identity documents live in the Tuzla Canton, 424.613, of which 10.009 do not have an identity card. The most number of citizens from the FB&H without personal documents live in Canton Sarajevo, 11.285, even if 404.509 have the right to obtain an identity card.
The least number of people older than 18 live in the Posavina Canton, 38.334, of which only 735 do not have an identity card. In the Herzegovina-Neretva Canton, 8.415 citizens do not have an identity card and 7.005 in the Una-Sana Canton of the total 189.589.
The indicators are not better in the RS entity. In the RS, 1.195.143 citizens have the right to obtain identity cards, and 29.857 do not have one. In the Brčko District 8.457 citizens do not have an identity card, and 84.679 have the right to obtain one, which is 10 percent of the population that has obtained the right for an identity card.
The B&H Law on Identity Cards for B&H Citizens is regulated so that there is a fine from 10-100 KM if a citizen does not send a request for applying for an identity card when it is required to do so. According to the available data, many citizens violate this legal provision.
In addition to identity cards, of the 3.271.938 citizens older than 18, 1.959.400 do not possess a passport. In the RS, 705.976 citizens do not have a B&H passport, and in the Brčko District the number is 48.549. They do not have the right to enter neighboring Croatia as of 1 July 2013.
Without identity cards, citizens are not able to obtain any other document, such as a passport or driver license. They are not able to enter the labor market, obtain neither health insurance nor social security, and they cannot leave the country because they do not have the basis to obtain other documents.