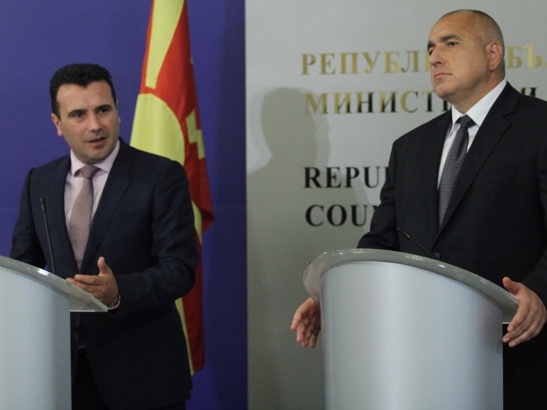 By Nikos Fragopoulos of Skopje News
Ten bilateral agreements, memoranda and cooperation protocols between fYROMacedonia and Bulgaria were signed yesterday Thursday during the first joint meeting of the governments of the two countries held in Strumica of fYROMacedonia, near the border with Bulgaria.
The agreements signed concern cooperation in the fields of energy, defence, tourism and technology.
Among other things, the Electricity Transmission Managers of the two countries, "MEPCO" and "ECO", signed an agreement on the creation of a common electricity market since the beginning of 2018, while the company "Macedonian Energy Resources" from fYROMacedonia and the Bulgarian gas management company "Bulgartansgaz" signed an agreement for a feasibility study on the construction of a new interconnector pipeline between the two countries' natural gas systems. During the study of the possible route of the new interconnector between Bulgaria and fYROMacedonia, the course of the implementation of the Greece-Bulgaria and Bulgaria-Turkey interconnectors will be taken into account.
The heads of government delegations were Prime Ministers of fYROMacedonia, Zoran Zaev and Bulgaria, Boiko Borisov.
Zayeb and Borisov expressed confidence that the two countries' parliaments will ratify, by the end of the year, the Agreement on Friendship, Good Neighbourly relations and Cooperation, which they signed in August in Skopje.
The Prime Minister of fYROMacedonia noted that with this agreement the political leaderships of the two countries send a strong signal to the region and around the world that they are building friendship, good neighbourly relations, co-operation and long-term stability.
Bulgaria's prime minister said his country supports fYROMacedonia's prospect of joining NATO and the EU and underlined that the forthcoming Bulgarian Presidency of the Council of the EU from 1.1.2018, as well as the subsequent presidencies of Austria, Romania and Croatia, should be exploited in order to have real mobility and progress over the next two years in terms of the European perspective of the Western Balkans, including fYROMacedonia.
On the occasion of the initiative of the so-called "Macedonian Orthodox Church" to send a letter to the Bulgarian Patriarchate expressing its readiness to recognize the Bulgarian Orthodox Church as its "Mother Church", provided the Sofia Patriarchate recognises the self-rule of the Church of fYROMacedonia, Zaev and Borisov urged the Churches of the two countries to find a solution in the spirit of the Agreement of Friendship and Good Neighbourly relations.
The so-called "Macedonian Orthodox Church" was unilaterally untied in 1967 by the Serbian Patriarchate and declared its "self-rule", which is not recognized by any orthodox church in the world.
The new round of contacts between the United Nations mediator on the issue of the two-party name on 11-12 December in Brussels marks the resumption of the positive climate effort after the change of government in fYROMacedonia and the more moderate position adopted by the new political leadership in Skopje. The feeling that has been created is that the next NATO summit, to be held on July, 2018 at the Alliance's headquarters in Brussels, is an informal milestone in reaching an agreement./IBNA