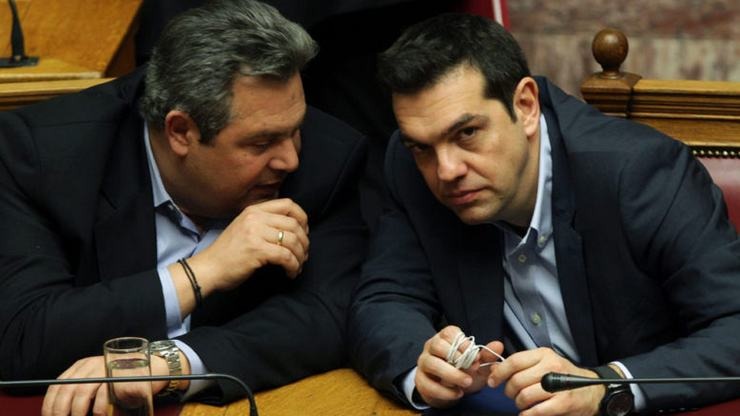 "End of alarm" for the government crisis in Athens, at least for now, after the decision of the government partner of Alexis Tsipras not to raise an issue of government trust, pending the final conclusion of the vote on constitutional amendments by the parliament of fYROMacedonia.
According to information, the Minister of National Defence and chairman of Independent Greeks (ANEL), Panos Kammenos, contacted the Greek Prime Minister by phone and asked him to postpone their scheduled appointment that was to be held this afternoon. Earlier, on Twitter, the Defence Minister had said that there is no issue of trust to the government, noting that his only disagreement with government policy is the ratification of the Prespes Agreement, especially the name issue.
Kammenos disagrees with the use of the term "Macedonia", having announced in the previous days his withdrawal from the government majority in the event that the Prespes Agreement comes to the Greek parliament for ratification.
Earlier today had taken place the meeting of the ANEL Parliamentary Group. From the seven MPs and ministers only two – three with Kammenos – supported the proposition of the party's chairman to withdrawal from the government, vote against the Agreement and freedom to vote based on ones conscience on the vote of confidence issue. It is unclear what stance Kammenos will keep when the Agreement comes for ratification by the Greek Parliament. In any case, the rupture with his parliamentary group is given.
Athens waits for the outcome in Skopje
At the same time, Athens is monitoring for the process of the vote on constitutional amendments by the parliament of fYROMacedonia. According to information, Tsipras stands ready to call Zoran Zaev when the vote is completed in order to be informed about the final changes and the exact date when they will be communicated to the Greek Foreign Ministry.
Following that, without losing any time, it will be immediately forwarded to the President of the Greek Parliament, the President of the Republic and the party leaders in order to start the ratification process.
Particularly strong was the reaction of New Democracy, which spoke of "self-degradation", while earlier in the parliament they left the competent committee, where Kammenos provided information, raising the issue of legitimacy, characterizing him "minister in remission"./IBNA