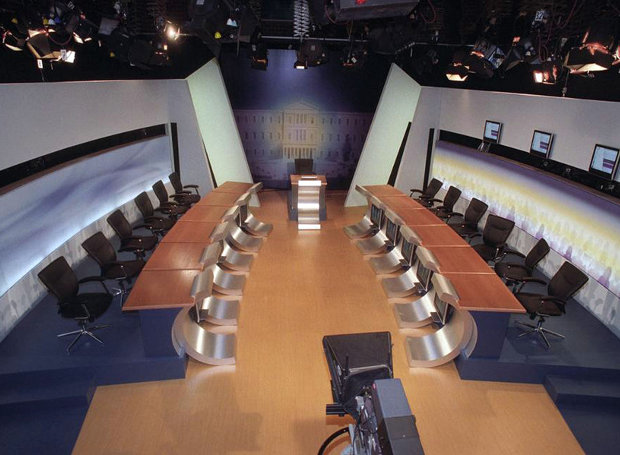 A cross-party committee that met on Monday morning to discuss the details of a televised debate between Greece's political party leaders ahead of the 7 July election, failed to agree a date for the discussion. The debate will therefore not go ahead, a development which sparked a feud between the parties.
Initially, the debate was expected to go ahead on 1 July. However, due to the fact that the Prime Minister will be attending a European Council meeting on 30 June, that date was deemed unsuitable. Party representatives could not agree on an alternative date, following SYRIZA's request that 1 July is ruled out.
The main opposition conservatives wanted all the parties represented in parliament on the panel whereas left-wing SYRIZA demanded a second debate with the leaders going head-to-head.
Sources from main opposition New Democracy (ND) – which is leading SYRIZA in latest opinion polls – and the socialist Movement for Change (KINAL) hint that SYRIZA had been making it difficult to reach an agreement, ever since its demands for a one on one debate between Prime Minister Alexis Tsipras and ND leader Kyriacos Mitsotakis were rejected by the other parties.
The Greek premier then took to twitter to attack ND and KINAL. "I initially believed that Mr. Mitsotakis wants to avoid […] a debate between the two [of us]. Today it became clear that KINAL and the Communist party were frantically looking for an excuse to avoid a debate between the five [party leaders]…" Tsipras said.
The PM went on to accuse the opposition parties of colluding to blame SYRIZA and avoid joining a debate, which Tsipras said was "a shame for democracy".
The Communist party (KKE) is thought to have disagreed with the 1 July date when SYRIZA's representatives put it on the table again, when an impasse was becoming clear. The KKE made plans to stage a rally in Thessaloniki on that day, when the government first ruled out the date.
Observers point out that the format of televised debates in Greece traditionally offers very little to political discourse, since it allows only for parallel monologues to be delivered by the political party leaders who only respond to questions put to them by journalists./ibna