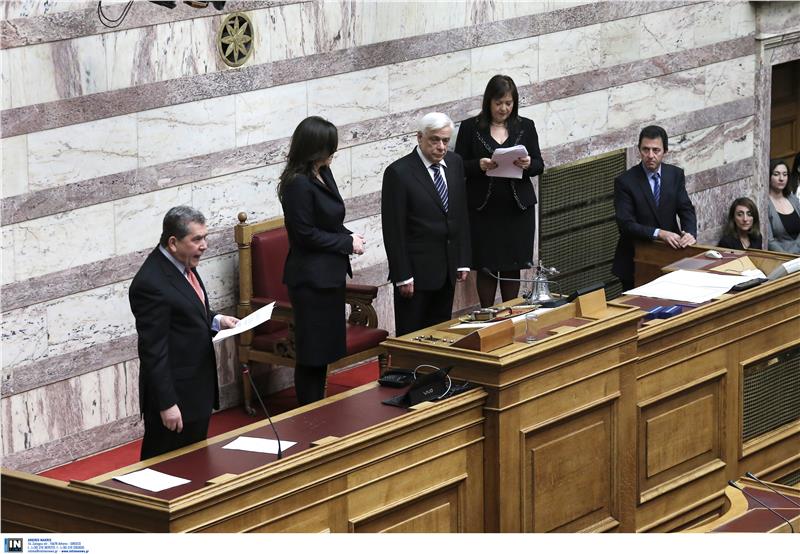 Athens, March 16, 2015/ Independent Balkan News Agency
By Spiros Sideris
The Presidents of the Greek Republic Prokopis Pavlopoulos, and the Republic of Cyprus Nicos Anastasiades, will soon have a meeting in Nicosia, the Cypriot President reveals in a statement, after a telephone conversation with his Greek counterpart.
In his statement, Anastasiades says he congratulated Pavlopoulos and wished him every success in the important work he has undertaken. Moreover, he warmly thanked the former President of the Greek Republic, Karolos Papoulias, "for the strong support he provided to the Republic of Cyprus".
The new President of the Republic Prokopis Pavlopoulos was visibly moved, in his inauguration on Friday, in the plenary session of the Greek Parliament.
Pavlopoulos arrived in the House just before 18:20 pm. An honourary military contingent was there to greet him, while the national anthem was playing.
The new president was welcomed at the entrance of the House by the prime minister Alexis Tsipras and the chairman of the House Zoe Konstantopoulou. Immediately after that he went to the Plenary, where the President gave a religious oath before the Archbishop Hieronymus.
Then Pavlopoulos received the congratulations of the members of the Cabinet, but also of the political leaders of the opposition parties. In the Plenary hall was also the former Prime Minister Constantinos Mitsotakis, and former Speakers of the House.
After that, the new President, accompanied by the Prime Minister, went to the office of Konstantopoulou and at 7pm he laid a wreath at the Monument of the Unknown Soldier.
In the area of ​​the Monument were also present, the Chairman of the House, the Prime Minister, Defence Minister Panos Kammenos and other members of the government.
He then went to the Presidential where he was welcomed by the outgoing President, Karolos Papoulias.
On Saturday, the new President of the Greek Republic, received at the Presidential Palace the congratulations of the political and state leadership.