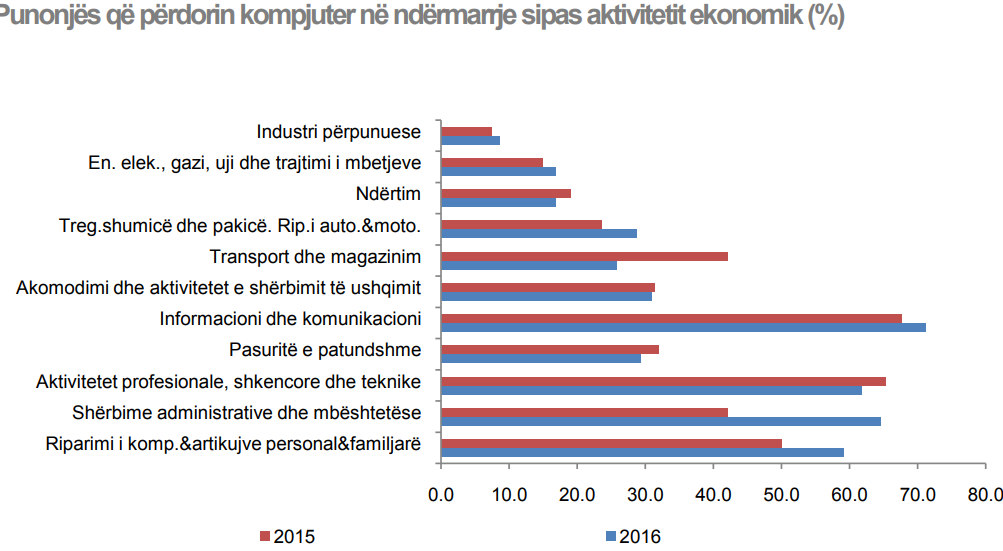 Companies that use a computer for work purposes represent 95.6% of the total number of companies operating in Albania.
Meanwhile, only 4% of them remain "faithful" to the old methods of working without being up to date with technology.
The figures in question are supplied by official institutions, according to which, workers that use computers for work purposes account for 28% of the total number of workers.
This figure has grown year after year, indicating a rise of the impact of technology within work premises.
"96.8% of the total number of companies that use a computer, have internet access. This level is 0.2% lower than the average of the EU member countries (97%)", experts also report in relation to such phenomenon.
Meanwhile, in 2016, companies that have had an internet page accounted for 51.6 of the total and in 66% of them, the webpage has been used to display the catalogue of their products or prices.
"In 2016, only 7,1% of companies have sold products and services through the internet or dedicated applications", experts say. /balkaneu.com/