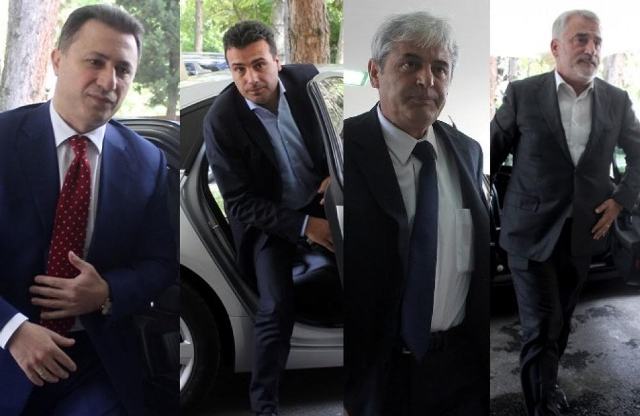 Skopje, 24 May 2016/Independent Balkan News Agency
By Naser Pajaziti
Large political parties are ready to form a new technical government, but with the representatives of the four political parties which have signed the Przino Agreement reached on June 2015 for the overcoming of the political crisis.
VMRO-DPMNE, BDI (Democratic Union for Integration) and SDSM (Macedonian Social Democratic Union) are ready for a technical government, but they have different proposals about its composition.
Meanwhile, PDSH (Albanian Democratic Party) says that it is not interested on taking part in a technical government, which according to them will not be functional.
"The Przino Agreement stipulates the creation of a technical government and the holding of elections. VMRO-DPMNE is ready to respect the agreement", said Ivo Kotevski of VMRO-DPMNE.
BDI is in favor of the recreation of a technical government consisting of the four large parties, but it refuses the participation of non parliamentary parties in it.
"We are ready for a technical government, as the Przino Agreement stipulates. This government must be formed with ministers proposed by the four largest parties and not parties which haven't won any legitimacy in the elections", said the spokesman of BDI, Bujar Osmani.
SDSM is in favor of a technical government, but this party is for the time being focused on abrogating the amnesty granted for incriminated politicians.
Imer Aliu of PDSH told IBNA that the Przino agreement is now a failed agreement and that work must be done for a new agreement. "Work must be done for a new agreement, as we have seen that this agreement has failed. We weren't part of the last technical agreement because we knew that it would be obstructed", Aliu said.
Gjulistana Markovska, a former prominent politician says that it would be very difficult to form a new government in FYROM.
"I think that a government made up of experts must have the backing of all parties. It must be a government with clear deadlines for what must be done and in case it is not done, someone must be held accountable", Markovska says.
A technical government was formed in January 2016 by the three largest parties, VMRO-DPMNE, BDI and SDSM in order to hold the next elections. But this government faced problems and conflicts between VMRO-DPMNE and SDSM. SDSM held the Ministry of Interior, Ministry of Social Affairs and several other deputy minister posts. This government was dissolved two weeks ago when the two parties of the majority, VMRO-DPMNE and BDI voted in favor of removing the opposition's ministers, as it was decided to annul the June 5 elections. The current government now consists of VMRO-DPMNE and BDI, a coalition which has now functioned since 2008. /balkaneu.com/