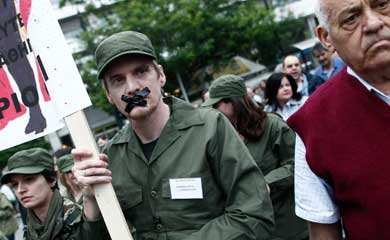 Government officials and secondary school teachers appeared to be close to a compromise late on Wednesday as the teachers' union (OLME) proposed that a teachers' strike planned for tomorrow, which the government has essentially banned by issuing a civil mobilization order, be called off.
The proposal by OLME, where New Democracy, PASOK and main leftist opposition SYRIZA are represented, was expected to be accepted by representatives of local teachers' associations, who remained locked in talks in Athens late on Wednesday. At least 80 percent had voted in favor of defying the order, according to sources. But this stance was seen as symbolic as it is unlikely teachers will risk arrest and dismissal.
Earlier in the day, Education Minister Constantinos Arvanitopoulos had insisted that university entrance examinations would begin as planned on Friday and would run "smoothly and on time." But the government is taking no chances and will reportedly have police on standby to avert the possible blockade of an exam center. Also, additional auxiliary teachers have been hired to ensure there are no hiccups.