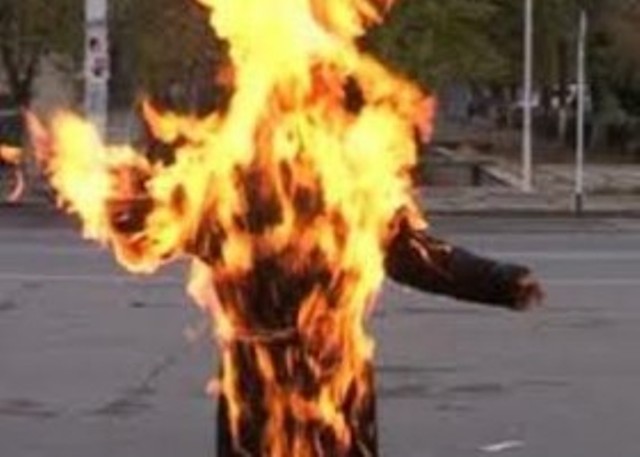 Tirana, April 4, 2014/Independent Balkan News Agency
A teacher of the "Thoma Paparano" professional school in Gjirokastra, has set himself on fire on Friday (04.04) in the premises of the school, terrorizing students and his colleagues.
The teacher in question is Laze Hashorva, 59 years of age, teacher of hydro-technical practices in this school. In the presence of the school principle and several colleagues, he has sprayed petrol all over his body and set himself on fire (photo).
"This happened a few minutes before classes started. Laze Hashorva entered the principle's office and that's where the event took place. He seemed to be a little tense and a few moments later, he committed this act", said sources from the school for IBNA.
The principle, other teachers and students who approached the teacher, tried to put off the flames.
In spite of the efforts, Hashorva sustained serious injuries on the face and body. He was rushed to the hospital of Gjirokaster, where he's reported to have sustained burns of a high degree.
Inquiries have been launched. There are suspicions that the teacher had started a debate with the principle, as the number of students attending his classes was constantly being reduced. He has accused the director of orienting all the new enrollments for this year toward other subjects, risking the closure of this subject and as a result, him and other teachers to be made redundant.
177 students currently attend the industrial professional school of Gjirokaster. Enrollments in the hydro-technical subject have been minimal. Only 8 students enrolled this class during this year.
This is an unprecedented case that happens inside a school in Albania. /ibna/