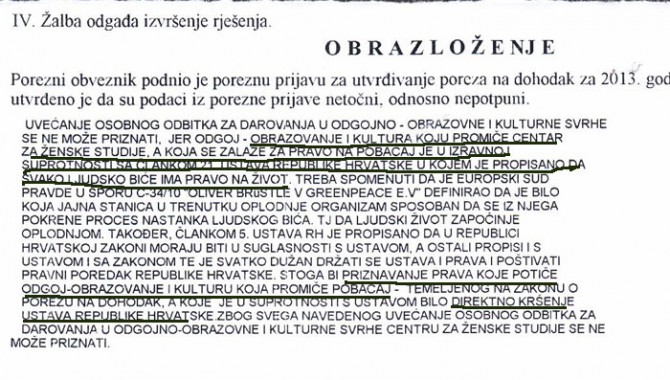 By Marija Avramovic – Zagreb
Tax Administration director Boris Šuvak gave the order today to suspend the tax officer who had earlier refused to admit the donation to the Center for Womens Studies as a tax deduction.
The right to tax relief on the basis of donations in Croatia does not always depend on the tax laws, but rather on whether a tax officer likes the ideas promoted by the one to whom the money was donated.
One croatian citizen became aware of these double standards when she asked that her donation to the Center be recognized as deductable from the payment of income tax, but she received a negative answer.
The Center for Womens Studies is a non-governmental organization engaged in research, publishing, educational and activist work with a focus on women's position in the croatian society but the 'concerned' tax officer ignored the fact that this NGO legally operates under Croatian laws.
According to the worried tax officer, the right to deduction does not belong to those who donate to the center that advocates for abortion rights, which are in the opinion of this concerned officer of the law contrary to the Croatian Constitution.
With this kind of reacting he indirectly asserted that the Centre for Womens Studies is engaged in unconstitutional affairs, forgetting that by croatian laws abortion is(still) legal.
"Enlargement of the personal deduction for donations for educational and cultural purposes can't be recognized, because education and culture promoted by the Center for Womens Studies, which advocates for the right to abortion is in direct contradiction with Article 21 of the Croatian Constitution in which stipulates that every human being has the right to life", according to the Tax Administraion's decision which portal H-alter published yesterday.
Director of Tax Administration has already issued an order to suspend the tax officers who breached the limits of interpretation of tax laws, and yet is to be seen whether he'll be  sanctioned for the violation of civil service duties, reported 'Novi list' today.
In addition, the leadership of the Tax Administration will meet on Friday with representatives of the Centre in order toapologize for the inconvenience.